Unbelievable!! Jorge Ramos Saying America Is " Our Country, Not Theirs."
Known for his outspoken opposition to the policy of President Trump's immigration law enforcement, on Friday during Premios Lo Nuestro, or "Our Awards",  Univision senior anchor Jorge Ramos has let loose with an gave a speech that could best be described as equal parts nationalistic identity politics, racially-driven demagoguery, and yet another instance of the irresponsible conflation of legal and illegal immigration.
"I am an immigrant, just like many of you," Ramos said in Spanish. "I am a proud Latino immigrant here in the United States. My name is Jorge Ramos, and I work at Univision and at the Fusion network."
"And you know exactly what is going on here in the United States. There are many people who do not want us to be here, and who want to create a wall in order to separate us," he said.
"But you know what? This is also our country. Let me repeat this: Our country, not theirs. It is our country. And we are not going to leave. We are nearly 60 million Latinos in the United States," he continued. "And thanks to us, the United States eats, grows and, as we've seen today, sings and dances."
"So when they attack us, we already know what we are going to do. We are not going to sit down. We will not shut up. And we will not leave. That is what we are going to do," he added.
Ramos should use his position and his immigration status as an example to all ILLEGAL immigrants and future immigrants how to do things the right way. Not spewing his hatred of President Trump and the GOP in the continuation of this nonsense that we are trying to build a wall between "us and immigrants". WRONG! We are trying to keep those people out who wish to enter illegally.

There is a HUGE difference Mr. Ramos and it is sad you don't choose to tell the truth and help the situation by being a leader and an example. I wonder, why is it so hard for people to understand that the crackdown going on right now is about deporting illegal, violent, multiple offenders, for the safety of all of us?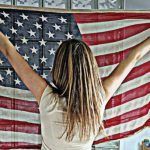 Natalie D. is an American conservative writer! Natalie has described herself as a polemicist who likes to "stir up the pot," and does not "pretend to be impartial or balanced, as broadcasters do," drawing criticism from the left, and sometimes from the right. As a passionate journalist, she works relentlessly to uncover the corruption happening in Washington.She is a "constitutional conservative".