Ben Stein Destroys CNN For Constantly Slamming President Trump
The C in CNN could stand for any of these: counterfeit, corrupt, corrosive, captious, canard, contentious, caviling and contumely, news network. And finally, there is someone other than Trump willing to call out this propaganda mainstream media machine.
Ben Stein was often critical of Trump during the presidential election but now that he's president, Stein sees what the media is doing to him. In a recent appearance on CNN, he went off on the network and other media outlets for their constant criticism.
After CNN host Brianna Keilar asked him what he thinks about Trump announcing his decision to not attend this year's White House Correspondents Association dinner, Stein answered:
"I don't blame Mr. Trump one bit for [making the decision]," Stein said. "He's a punching bag, day after day after day in the media and I don't blame him for not wanting to go and be a punching bag in person."
After this answer, Keilar appeared so fluster she couldn't even think and further pressed Stain on comments Trump recently made when he described "fake news" media — citing the New York Times, CNN, Washington Post, among others — as the "enemy of the American people", and Stain answered Keilar with the truth. (video below)
"I wouldn't say all the media is the enemy of the American people. But look, every day you pick up The New York Times they're slamming, slamming, slamming him," Stein said.
"I'm a great fan of CNN. I watch it quite faithfully every day. CNN is slamming him, slamming him, slamming him. Every day they are looking for a scandal," Stein said.
They are just turning the woods upside down looking for a scandal. They are hoping, I think, to do what they did to Nixon a long time ago and still haven't found any scandals," he explained. "And with all due respect, I don't blame him for being furious at them. And I think he's got a lot of company."
He then continues- "An awful lot of people are not great fans of the media and they see the media as an unelected aristocracy … who are dumping all over the mainstream of America, and I think Mr. Trump has a lot of company."
"They're trying to undo [Trump] basically before he even gets started," Stein explained. "I think it's extremely unfortunate. The country has real problems and for them to be focusing on trying to bring down this guy before he even gets started is a serious mistake."

Good for you Ben!!! It was about time for you to be honest and point out what is obvious-  CNN has lost its credibility completely and no longer has a shred of objectivity in its news reporting because every political news story is spun to fit its far-left, anti-Trump agenda regardless of content or importance.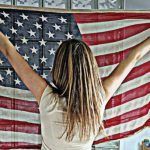 Natalie D. is an American conservative writer! Natalie has described herself as a polemicist who likes to "stir up the pot," and does not "pretend to be impartial or balanced, as broadcasters do," drawing criticism from the left, and sometimes from the right. As a passionate journalist, she works relentlessly to uncover the corruption happening in Washington.She is a "constitutional conservative".