Traitor John McCain Goes Too Far With His Hypocritical Message to President Trump. Immediately Get Shut Down! (Video)
McCain is a traitor! Just like the other establishment and liberals. Not to mention a hypocrite. He is THE attacker of Republicans and the Conservative agenda. McCain is not a peacemaker, he is a divider. I can't remember the last time McCain voted for any vital Republican bill. But he goes on live TV and dares to say that Trump is the one who is attacking Republicans!
On Thursday morning interview on "Today" show with NBC's Tom Brokaw, Sen. John McCain (R-AZ) said that our country is going through a period of turmoil politically.
McCain said: "We are going through a period of turmoil politically, obviously. We are seeing in many ways, the 1930s: the isolationism, the America-firsters. Now, maybe some of the causes are different, but the fact is we are seeing the United States become much more insular and inward."
He also said President Donald Trump should stop tweeting and not attack Republicans.
When asked what advice he would give Trump, McCain said, "Stop tweeting.' I think I'd say, 'Stop tweeting.' I think I would also say there's no reason to attack Republicans. We've got enough people who attack them."
I got news for you, John! You are not a Republican you are a RINO. It's been clear for a long time now that you will do anything and say anything to undermine this President. Maybe you should get your own house in order before giving advice to others.
McCain has made a career of attacking Republicans. I would have preferred him to register as a Democrat. I like my enemies in front of me, rather than creeping around behind with a knife.
Social networks started to launch an attack on him and show huge support to President Trump!
Keep tweeting POTUS it drives the haters nuts!
What do you think? Scroll down to leave a comment below!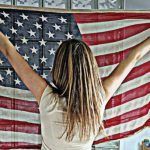 Natalie D. is an American conservative writer! Natalie has described herself as a polemicist who likes to "stir up the pot," and does not "pretend to be impartial or balanced, as broadcasters do," drawing criticism from the left, and sometimes from the right. As a passionate journalist, she works relentlessly to uncover the corruption happening in Washington.She is a "constitutional conservative".