Thanks To FLOTUS New Directive, People Will Be Able To See Famous WH Movie Theater
Our FLOTUS is genuine and sincere about who she is. What you see is what you get and that is what a quality person is all about. Our FLOTUS isn't fake and she articulates her ideas and feelings directly without any kind of politically correct filter. In a word, she has that rare quality, especially in Washington, honesty.
Now, thanks to a new directive by first lady Melania Trump, visitors will now be able to view the famous White House movie theater.
On May 12, Trump announced that the "newest piece of the tour" was meant to give people more access to the building's "rich history" and "wonderful traditions."
The decision to open up more of the White House to ordinary citizens stood in stark contrast to former President Barack Obama and first lady Michelle, who wanted to keep up their privacy but regularly hosted celebrities and star-studded events while suspending citizen tours of the mansion for eight months in 2013.
In her announcement, Melania Trump said: "The White House belongs to the people of this country. I believe everyone who takes the time to visit and tour the White House should have as much access to its rich history and wonderful traditions as possible. It is my hope that our visitors truly enjoy the newest piece of the tour."
In the past, Presidents would use the @WhiteHouse Family Movie Theater to rehearse for the annual #SOTU address pic.twitter.com/xz8WsqQn8j

— Jennifer Pickens (@JenniferPickens) January 11, 2016
In the past, The East Wing theater has been used to host special guests, such as military personnel and their families, and as a rehearsal space for residents preparing for major speeches.
.@FLOTUS is proud to announce the movie theater is now open on the self-guided tours. Find out more: https://t.co/fDg05yKtp4 pic.twitter.com/z5bq2FYMRf

— The White House (@WhiteHouse) May 12, 2017
Bless our First Lady! What a refreshing change it is from the selfish, whining embarrassment we endured the previous eight years!
America Loves You First Lady Melania. Share this if you support our FLOTUS!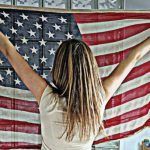 Natalie D. is an American conservative writer! Natalie has described herself as a polemicist who likes to "stir up the pot," and does not "pretend to be impartial or balanced, as broadcasters do," drawing criticism from the left, and sometimes from the right. As a passionate journalist, she works relentlessly to uncover the corruption happening in Washington.She is a "constitutional conservative".