Students Are Worried That USC's Mascot Has Similar Name to Robert E. Lee's Horse
Liberals are just proving you cannot fix stupid. You can't use common sense or logic with the left their brains don't think like that! They have been spoon-fed liberal doctrine and not taught how to think for their selves or heaven forbid they research things on their own! They are being used by their communist professors who are globalist and not telling them how bad their lives will become under communism!
Now, they actually expect us to stop using certain words because they could be associated with something 150 years ago? It's just an excuse to get people to feel guilty and give other people power.
Now, at the University of Southern California, the student group's leader voiced her disapproval of the home team horse's name earlier this week, at an on-campus rally to protest last week's violence in Charlottesville, Va.
Via Conservative Daily: "Student activists gathered on the campus of the University of Southern California on Thursday evening to oppose the white supremacist rally in Charlottesville, Virginia, last weekend and to support those affected by it.
Many held signs and wore clothing with slogans backing minority groups, according to the Daily Trojan.
The co-director of the school's Black Student Assembly, furthermore, reportedly told students to remember that white supremacy "hits close to home," referring to USC's equine mascot, Traveler. The Daily Trojan noted it was named after a favorite horse of Robert E. Lee, a statue of whom on the University of Virginia's campus drew crowds of neo-Confederates and counter-protesters last weekend.
The earliest mention of this connection was in the obituary of Richard Saukko, the man who began what would become a school tradition nearly 56 years ago, according to the Los Angeles Times. The claim could very well be true, but that line in the obituary was not supported by a source, nor was there a byline, per the Times.
A 2005 AP story called the link "merely coincidental," yet also lacked attribution. Meanwhile, USC's website denies the horse was named after the one belonging to the Confederate general, which was spelled with two "Ls" instead of one.
But even if it was, Saukko's widow was dismissive of calls to rename the famous mascot.
"The problem is this: maybe three weeks ago it was fine," Pat Saukko DeBernardi said. "So now the flavor of the day is … we all have to be in hysteria … It's more of a political issue. The horse isn't political and neither am I." She also noted that the horse was named Traveler when her husband bought it."
OMG!!! What a whining bunch this generation has become. These statutes and names never bothered anyone before!! Now all of the sudden people are soooo extremely offended and it all needs to be changed or removed!! Give me a break!!!
What's next, rewriting history books so we don't upset anyone. Oh hey here's one. Let's tear down the pyramids in Egypt. They were built by slaves. I heard General Lee once ate a biscuit…guess I will be boycotting Cracker Barrel!
What do you think? Scroll down to leave a comment below!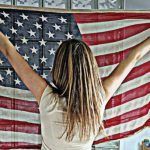 Natalie D. is an American conservative writer! Natalie has described herself as a polemicist who likes to "stir up the pot," and does not "pretend to be impartial or balanced, as broadcasters do," drawing criticism from the left, and sometimes from the right. As a passionate journalist, she works relentlessly to uncover the corruption happening in Washington.She is a "constitutional conservative".