Snoop Dogg MOCKS President Trump Assassination… AGAIN!! And This Time He Might be Visited by The Secret Service
Hollywood celebrities are becoming more and more uncivilized. Acting is their job and career, what else can we expect?
There is one problem with celebrities they think that their opinion is more important than the ordinary people! Well, they are wrong and sometimes they have to pay for what they said! These "celebrities" who think they can say and do whatever they please and not have consequences, need to be made an example of!!
Rapper Snoop Dogg first took a fake gun to a caricature of Donald Trump's head and now the rapper's come for the body … as in body bag.
Via TMZ:
Snoop posted this photo on Instagram Tuesday in what appears to be the cover to his next album, "Make America Crip Again." It's a spitting image of Ice Cube's 1991 cover for "Death Certificate."
Snoop's hatred for the Prez is no secret … and the rapper didn't give a damn about catching heat back in March for his mock presidential assassination in "Lavender." At the time … Snoop said he did so because "nobody's dealing with the real issue with this f****** clown as a president."
Snoop Dogg is on the side of the terrorists destroying this country. The irony of a gang member, drug dealer, and killer calling Trump out lol.
Oh, Secret Service… Where are you? DO YOUR JOBS as WE THE PEOPLE HOLD YOU ACCOUNTABLE!!! PROTECT OUR PRESIDENT!!!
So let's all send prayers for President Trump's Secret Service to act swiftly and justly to neutralize this threat against the very core of America. Share this with all your Pro-Trump Facebook friends!
What do you think about this? Scroll down to leave a comment below!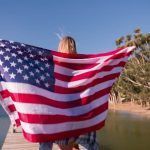 Michelle is American conservative author she is committed to the constitutional principles of individual freedom, economic liberty, limited government, personal responsibility, and traditional values. She is a libertarian and provocateur who believes in freedom and liberty for all Americans. As a passionate journalist, she works relentlessly to uncover the corruption happening in Washington, while exposing politicians and individuals who wish to do us harm.