SITTING DUCK ZONE – Check Out the Sign Posted in the Maine Bowling Alley Where Mental Patient Robert Card' Shot Many of His Victims
Robert Card, the man accused of killing 18 people at a bowling alley and bar in Lewiston, Maine, has been found dead, officials said.
The shootings Wednesday set off a multistate manhunt for the 40-year-old Army reservist accused in the killings.
On Friday evening, authorities rescinded the shelter-in-place order for neighboring communities.
The family of the suspect said that his mental health had deteriorated rapidly and that he had reported hearing voices in recent months.
The mass shooting was the 565th in the U.S. in 2023 and the deadliest so far this year, according to the Gun Violence Archive.
All 18 victims have been identified: Ronald G. Morin, 55; Peyton Brewer-Ross, 40; Joshua A. Seal, 36; Bryan M. MacFarlane, 41; Joseph Lawrence Walker, 57; Arthur Fred Strout, 42; Maxx A. Hathaway, 35; Stephen M. Vozzella, 45; Thomas Ryan Conrad, 34; Michael R. Deslauries II, 51; Jason Adam Walker, 51; Tricia C. Asselin, 53; William A. Young, 44; Aaron Young, 14; Robert E. Violette, 76; Lucille M. Violette, 73; William Frank Brackett, 48; Keith D. Macneir, 64.
Many of his victims were killed in Just-In-Time Recreation the bowling alley in Maine.
Local police training at a nearby firing range took just 90 seconds from the first 911 call to get to the bowling alley targeted by a mass shooter on Wednesday, Maine's top police official said Friday.
But the shooter had left the Just-In-Time Recreation in a suburban area on Mollison Way and was likely on his way to his second target at Schemengees Bar & Grille Restaurant on Lincoln Street, near the Androscoggin River in the heart of the city.
The new information from Michael Sauschuck, Maine's public safety commissioner, showed a lightning-quick police response that nonetheless came too late to stop the man who killed 18 people between the two scenes. It is still unclear how long the shootings lasted.
Things could have been a lot different if they didn't put this gun-free zone sign on the doors!
Photos below:
I think that term should be changed to "SITTING DUCK ZONE."
""We kindly ask that you refrain from bringing firearms in this building… Please keep our atmosphere family friendly."
If there was at least one armed person to respond to Bird's fire everything could have been different!
OPINION: This article contains commentary which reflects the author's opinion
Reminder: The purpose of the articles that you will find on this website, are to EDUCATE, not to disinform or grow hate and anger!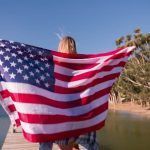 Michelle is American conservative author she is committed to the constitutional principles of individual freedom, economic liberty, limited government, personal responsibility, and traditional values. She is a libertarian and provocateur who believes in freedom and liberty for all Americans. As a passionate journalist, she works relentlessly to uncover the corruption happening in Washington, while exposing politicians and individuals who wish to do us harm.