Sean Spicer To A Rude Reporter: "Calm Down, It's Not Your Press Briefing"
At the White House press briefing on Monday, press secretary Sean Spicer took on ABC News' Jonathan Karl for interrupting a question by the AP's Julie Pace.
At the press briefing, Spicer was asked about FBI Director James Comey's confirmation to Congress that there is an ongoing investigation into whether Trump officials colluded with the Russian government to influence the 2016 election.
"Investigating it and having proof of it are two different things," Spicer snapped at ABC News Correspondent Jonathan Karl. "There is a point in which you continue to search for something that everybody has been briefed hasn't seen or found. I think it's fine to look into it. But at the end of the day, they're going to come to the same conclusion that everybody else has had. So, you can continue to look for something, but continuing to look for something that doesn't exist, doesn't matter."
"There is a fine line between people who want to be part of something that they never had an official role in and people who actually played a role in the campaign and the transition," he insisted.
When Spicer asserted the role of Paul Manafort in the 2016 presidential campaign of Donald Trump was ultimately a small one, Karl objected.
Spicer that shot back, "Hey Jonathan, hold on can you stop interrupting other people's questions? Hey, Jonathan somebody is asking a question. It's not your press briefing. Julie is asking a question. Please calm down."
[youtube https://www.youtube.com/watch?v=ozWIx85yakU]
Jon Karl lacks civility and believes it is acceptable to talk over others and interrupt them, regardless of who he is interrupting. He has no respect towards others!
As it seems, Spicer may in time teach the Elite Press Corps manners.
This is exactly how Spicer should handle the press. Don't let them dictate how things go! If they insist on disrespectfully interrupting him while he tries to answer a question, he should not answer their question and move on to someone else…just like he did!!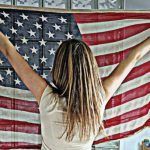 Natalie D. is an American conservative writer! Natalie has described herself as a polemicist who likes to "stir up the pot," and does not "pretend to be impartial or balanced, as broadcasters do," drawing criticism from the left, and sometimes from the right. As a passionate journalist, she works relentlessly to uncover the corruption happening in Washington.She is a "constitutional conservative".