Outstanding!! Chief Ryan Owens Will Get Posthumous Promotion
During President Trump's address to Congress Tuesday night, a very moving moment happened and made us proud to be Americans!! President Donald Trump honored Carryn Owens, the widow of Chief Special Warfare Operator William "Ryan" Owens.
Ryan Owens died last month in a sensitive operation in Yemen, which "yielded valuable intelligence which will protect U.S. national security."
We are blessed to be joined tonight by Carryn Owens, the widow of a U.S. Navy Special Operator, Senior Chief William "Ryan" Owens. Ryan died as he lived: a warrior, and a hero — battling against terrorism and securing our Nation."
"I just spoke to General Mattis, who reconfirmed that, and I quote, "Ryan was a part of a highly successful raid that generated large amounts of vital intelligence that will lead to many more victories in the future against our enemies."
Ryan's legacy is etched into eternity. For as the Bible teaches us, there is no greater act of love than to lay down one's life for one's friends. Ryan laid down his life for his friends, for his country, and for our freedom — we will never forget him."
"To those allies who wonder what kind of friend America will be, look no further than the heroes who wear our uniform.
According to the Military Times, Ryan was due for a promotion but it was not known before that President Trump would do it.

Trump said the following about Senior Chief Ryan Owen:

"RYAN'S LEGACY IS ETCHED INTO ETERNITY!"

God bless Trump. God bless Senior Chief Ryan Owens and his family. God bless this country.
Ryan has made the ultimate sacrifice. Our nation is in his debt. We are forever in debt to every person who has died serving us. We applaud Carryn and her family for allowing Ryan to serve us like he did. He will never be forgotten because he is a hero. He defined the true spirit of America. Rest in peace, sir.
This was so touching!! It's so nice to finally have a president that respects the military. This speech was just another example of what a great leader we have!
He remembered everyone… I want to thank President Trump for his patriotism and the respect and honor he gave to the Navy seel's family.

God Bless this brave family and bless this brave Navy Seal.  May he Rest In Peace!
America thanks you Ryan for your service!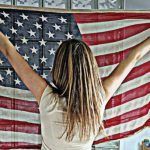 Natalie D. is an American conservative writer! Natalie has described herself as a polemicist who likes to "stir up the pot," and does not "pretend to be impartial or balanced, as broadcasters do," drawing criticism from the left, and sometimes from the right. As a passionate journalist, she works relentlessly to uncover the corruption happening in Washington.She is a "constitutional conservative".