NFL Team's Worst Nightmare Come True As Outraged NFL Fans Express Their Revolt Against National Anthem Protests (VIDEO)
What does it look like to the rest of the world when we turn our backs against our countries values? Does it look like a weak, demoralized society? A society that is left wide open for attack? An attack against our religious, justice, military, family, community, government, American values. NFL made America a national embarrassment when they kneeled for the American flag while overseas in London but then stood for UK's national anthem. When you dishonor the American Flag, you are dishonoring American values. American values were and are hard to fight for. Millions have died to try to defend, protect and preserve our countries values. When we turn our backs against our values, our Flag, we are leaving ourselves wide open for the enemy to attack.
Luckily, the fans, or as for now on former fans, know how to punish this disgraceful behavior.
Via Fox News Insider: "Dozens of NFL players on Sunday refused to stand for the national anthem to protest racism in America and to defy President Donald Trump's call for players who "disrespect the flag" to be fired.
Many players took a knee or sat during the anthem, while some entire teams remained in the locker room.
Pete Hegseth spoke to several NFL fans at the New York Jets-Miami Dolphins game to see what they thought these anthem protests.
One woman said it's a "disgrace" and "unethical" for players not to show respect to the country and those who risk their lives to protect it.
She said if players on her favorite team continued to demonstrate during the anthem, she would stop rooting for them.
"It's disgusting," she said.
A man said he agrees with Trump "150%" that NFL owners should fire players who protest during the anthem. He pointed out that if he decided to protest at his job he would "probably get canned."
On Sunday, Trump re-tweeted calls for a fan boycott of NFL games.
"They're paying these guys to do a job. They're not supposed to be involved in politics," another woman said.
One man, however, said players have every right to engage in peaceful protest. He suggested that if Trump wants to weigh in on the NFL, then maybe he should get involved in one of the games and "take a hit and get a concussion."
The Jets' players locked arms during the anthem, but none of the team's players took a knee."
They have no honor! They are a spoiled elitist who thinks they are special, but, THEY ARE NOT! Their protest shows their ignorance when that flag allows you to be able to kneel! Other countries like North Korea you would be in prison or worse if you disrespect their flag!
Luckily, we do hold the power as fans. We should have turned the channel when the NFL decided to employ people like Kaepernick and so much more. We should have turned the channel a long time ago. I am happy we are turning it now though.
If they won't support America THEN AMERICANS MUST NOT SUPPORT THEM!
What do you think? Scroll down to leave a comment below!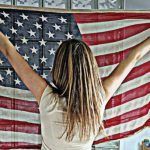 Natalie D. is an American conservative writer! Natalie has described herself as a polemicist who likes to "stir up the pot," and does not "pretend to be impartial or balanced, as broadcasters do," drawing criticism from the left, and sometimes from the right. As a passionate journalist, she works relentlessly to uncover the corruption happening in Washington.She is a "constitutional conservative".