NFL Star Has One Question For The Anthem Protesters… And It's Brilliant
I stand with those standing!
While the rest of the NFL spent Sunday kneeling and linking arms as a sign of protest to President Donald Trump's condemnation of players who disrespect our National Anthem, Denver Broncos defensive end, Derek Wolfe, has made it clear that he is a proud patriot. So, instead of giving into what the majority of NFL players did this Sunday in a direct response to President Donald Trump's criticism for anthem protesters, Wolfe decided to stand and salute our flag.
Wolfe addressed one question for all of them.
In a statement provided to ESPN's Josina Anderson Wolfe said: "[I]t's AMERICA! The greatest country in the world and if you don't think we are the greatest country in the world and you reside here, then why do you stay?"
Broncos national anthem. #4Broncos pic.twitter.com/PKrkyyPAEQ

— Michael Spencer (@MichaelCBS4) September 24, 2017
Wolfe emphasized that the United States is a country that values its freedoms, peaceful protests included, but he used his right to peacefully oppose their decision.
"I stand because I respect the men who died in real battle so I have the freedom to battle on the field. Paying tribute to the men and women who have given their lives for our freedom is why I stand," Wolfe told ESPN.
"But everyone these days likes to find a reason to protest and that's their right. It's America and you are free to speak your mind. I just feel it's disrespectful to the ones who sacrificed their lives and it's maybe the wrong platform.
"But like I said, to each their own. It's AMERICA! The greatest country in the world and if you don't think we are the greatest country in the world and you reside here, then why do you stay? A lot worse places in the world to call home. Proud to be an American."
NEW: Statement to me from #Broncos DE Derek Wolfe on Donald Trump's comments regarding national anthem protests in the @NFL. pic.twitter.com/4qWLXNhbSK

— Josina Anderson (@JosinaAnderson) September 24, 2017
Much respect for this man and Pittsburgh Steelers Alejandro Villanueva! Thank you, both for being a good example for all.
My only question is… In which country these protesting players would rather be residing, and can we help make this happen? These entitled NFL divas have pushed us to the limit. What a disgrace kneeling for the National Anthem while playing on foreign soil. They have their rights and we have ours…and we will not buy a single ticket or anything from a sponsor of theirs. I hope they enjoy the poverty about to hit them.
What do you think? Scroll down to comment below.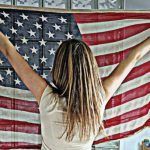 Natalie D. is an American conservative writer! Natalie has described herself as a polemicist who likes to "stir up the pot," and does not "pretend to be impartial or balanced, as broadcasters do," drawing criticism from the left, and sometimes from the right. As a passionate journalist, she works relentlessly to uncover the corruption happening in Washington.She is a "constitutional conservative".