BACKLASH: Angry Fans Made Every NFL Team's Worst Nightmare Come True After Their Disrespect Towards Our Country
These days it is such an embarrassing shame what America has turned into. Players from both the Baltimore Ravens and Jacksonville Jaguars were the first to protest by taking a knee ahead of their game at Wembley Stadium in London on Sunday morning. However, no players were kneeling during the playing of God Save The Queen – the British national anthem.
Kneeling during our National Anthem is one thing- but immediately Standing for the National Anthem of the country we fought against to secure your right to act a fool is ignorant, despicable, and dishonorable.
Hopefully, the fans will know how to punish this!
"Thousands of fans were incensed that nearly all of the Ravens players knelt during the national anthem, displaying what they called a "gut-wrenching" lack of respect for the country and the flag.
Many fans said they would no longer support the team because of the protests.
"Introducing politics into today's was the lowest behavior of any team. I'm no longer a Ravens fan after today," one man wrote on the team's Facebook page. "I will be notifying M&T Bank of my decision to pull out as well. If you don't support my country, you & M&T Bank don't deserve my support or my money either. Shame on you Baltimore Ravens!"
Others saw the demonstrations as a lack of respect for the team's fans and the city of Baltimore.
"You all forget who you represent. Not just yourselves," a woman posted. "You represent the Ravens, Baltimore, and America. And you embarrassed yourselves and us today. You not only broke the unity of us as Americans today, I think you broke the unity between Ravens players and Ravens fans."
Before Sunday's games kicked off, President Donald Trump criticized the NFL for allowing players such as former San Francisco 49ers quarterback Colin Kaepernick to kneel during the anthem in protest of police brutality against minorities. In an early morning tweet, Trump called on team owners to punish players who refuse to stand for anthem.
"If NFL fans refuse to go to games until players stop disrespecting our Flag & Country, you will see change take place fast. Fire or suspend!" he wrote.
The Ravens and the Jaguars were the first teams to respond to Trump, kneeling on the sidelines while the national anthem played at London's Wembley stadium. Teams across the NFL followed suit in later games, with hundreds of players engaging in some form of protest during the the anthem. Some teams locked arms, others knelt, and some, including Pittsburgh Steelers, remained in the locker room during the pre-game anthem.
The Steelers protest was received with outright hostility from thousands of the team's fans, who are known as some of the most loyal and passionate in the league.
"I have been a Pittsburgh Steelers Fan for 60 years and Not so much anymore. I'm done," Joyce Maletto wrote on the team's Facebook page. "How dare you dis-respect our country like that. You only have one player that is a true American!"
Maletto was referring to Steelers offensive lineman Alejandro Villanueva, a former Army Ranger who served three tours in Afghanistan. Villanueva was the lone Steelers player to emerge from the locker room and stand on the field during the anthem.
Even teams that notched impressive wins on Sunday weren't immune to criticism from fans outraged by the anthem protests. After the Jaguars touted their wipeout of the Ravens in a Facebook post on Sunday night, the vast majority of replies didn't celebrate the victory but instead blasted the team's protest.
"You disrespected our Flag, our Veterans who fought for it and our Country and you did it on foreign soil," David Ruth wrote back. "Not one more dime of my money! Not one more minute of my time!"
If you don't have respect this country or it's flag then you don't deserve to be making a living here.
Because of their disrespect, we must STOP go to a game and STOP watch them on TV!! Simple as that! Once their obscene salaries start dropping these airheads will get the message and their attitude will change!
If they won't support America THEN AMERICANS MUST NOT SUPPORT THEM!
What do you think? Scroll down to leave a comment below!
H/T The Daily Caller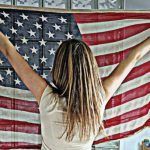 Natalie D. is an American conservative writer! Natalie has described herself as a polemicist who likes to "stir up the pot," and does not "pretend to be impartial or balanced, as broadcasters do," drawing criticism from the left, and sometimes from the right. As a passionate journalist, she works relentlessly to uncover the corruption happening in Washington.She is a "constitutional conservative".