MSNBC Tried To Rip Scaramucci But They Ended Up Totally Humiliated Instead!
Most members of our media are nothing more than leftist Democrat operatives who feed us misinformation/disinformation on a daily basis while working under the cover of "journalism." I guess the day these fake so called reporters say one thing positive about anything trump has said or done they will go off the air.
On Thursday, New York Times Columnist Bret Stephens made a pathetic effort to mock White House Communications Director Anthony Scaramucci on "MSNBC Live." Stephens compared Scaramucci to John Gotti, saying that listening to Communications Director was like "Hearing 'The Seven Habits of Highly Successful People' reinterpreted by John Gotti."
After host Stephanie Ruhle heard Stephens compare Scaramucci to the Italian gangster she started laughing so hard while she and asked Stephens to repeat the thing he said. When Stephens doubled down and repeated himself, Ruhle called the slight "amazing."
Before Stephens make this stupid joke, director Scaramucci phoned CNN Thursday morning to defend his tweet about White House Chief of Staff Reince Priebus and his possible involvement in recent leaks. This move prompted Stephens to call Scaramucci's behavior "hallucinogenic."
People like Bret are just guaranteeing that Trump gets a second term. Amazing how 8 months later, condescending Democrats and biased media still don't understand their role in helping get Trump elected
Stephens continued with his hatred talk at the White House saying Donald Trump's presidency should be called the "peyote presidency," describing it as a bad drug trip. Again, host Stephanie Ruhle started laughing and clapped her hands with glee She also mentioned that a White House source told her that as much as the president enjoys Scaramucci's presence, "He'd just as soon enjoy firing him. They are all pawns to Trump."
Good for you MSNBC. I'm glad to see you have learned nothing watching CNN constantly bad mouth the POTUS and his administration. Now CNN has lost most of its one time very large following down to less than 800 thousand!
And I was afraid that with them out of the way there would be no one left to keep driving the masses towards the new President and making the Left look more like idiots than they can possibly do on their own. But, here you are! Keep up the good work.
What do you think? Scroll down to leave a comment below!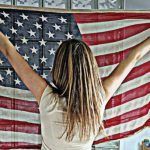 Natalie D. is an American conservative writer! Natalie has described herself as a polemicist who likes to "stir up the pot," and does not "pretend to be impartial or balanced, as broadcasters do," drawing criticism from the left, and sometimes from the right. As a passionate journalist, she works relentlessly to uncover the corruption happening in Washington.She is a "constitutional conservative".