Immigrants Must Take "Australian values" Test For Australian Citizenship!
Our President Trump has a vision for greatness that the democrats will never have. When it comes to immigrants he has been right all along. But fortunately, the world is waking up and listening to TRUMP.
That's right! Australia makes a massive move against immigrants!
One of the first steps you need to take if you want to take Australian citizenship is to take an "Australian values" test and have a higher level of English proficiency as a precondition to citizenship.
Australian politicians plan to pass a bill through Parliament, that would make immigrants that want to get Australian citizenship to pass a tougher citizenship test. This test will originally have 20 questions and there are going to be more questions added to the test. They are going to be include reading, writing, listening, and moral components.
In the Australian capital of Canberra, the Prime Minister Malcolm Turnbull said: "What we are doing is strengthening our multicultural society and strengthening our values. Australian citizenship should be honored, cherished. It's a privilege."
He added: "If we believe that respect for women and children and saying no to violence … is an Australian value, and it is, then why should that not be made a key part, a fundamental part, a very prominent part, of our process to be an Australian citizen? Why should the test simply be a checklist of civic questions?"
He also said that he would never ask potential citizens "to abandon their heritage or their culture or their background" but they need to understand how people treat one another in Australia. They will not settle for people who are okay with domestic violence or hold radical beliefs.
Also, the person wants to apply for citizenship needs to have a four-year permanent residence in Australia.
"We're catching up with the rest of the world," Turnbull said, noting that the United States requires five years and Germany requires eight. He also said the increased period would give immigrants "more time to integrate to be part of the Australian community" before applying for citizenship.
Good for them! America needs to adopt this idea of a citizenship admittance test, but we need to go one step further – you have to except this countries law totally and completely. That including having to let go of customs or religious believe when and if it is different from our values and our laws set forth in the United States.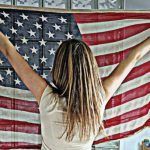 Natalie D. is an American conservative writer! Natalie has described herself as a polemicist who likes to "stir up the pot," and does not "pretend to be impartial or balanced, as broadcasters do," drawing criticism from the left, and sometimes from the right. As a passionate journalist, she works relentlessly to uncover the corruption happening in Washington.She is a "constitutional conservative".