Illinois Man's Dream Turns Into Nightmare – Gun Owner Is Facing Felony Charges After He Shot Himself In The Leg While He Was Asleep And Dreaming About An Intruder
A man in Illinois is facing time in prison after he accidentally shot himself in the leg in his sleep.
A suburban Chicago man n is facing firearm charges after c he told officers he accidentally shot himself in the leg while dreaming that an intruder was breaking into his home, police said.
The Lake Barrington man was charged about two months after Lake County Sheriff's deputies were called to his home on April 10 on a report about a person with a gunshot wound, police said.
Deputies who found the 62-year-old man with a gunshot wound to one of his legs applied a tourniquet to the limb because he "was losing a significant amount of blood" before being hospitalized, police said.
The man told investigators he "had a dream that someone was breaking into his home" and during that dream, he "retrieved his .357 Magnum revolver and shot at who he believed was the intruder," police said.
"When he fired, he shot himself and apparently woke up from the dream," police said Tuesday in a news release.
Investigators determined there was no burglary attempt at the man's home in the northwest Chicago suburb. But they found that his state firearm owner's identification card had been revoked, and he was still in possession of a firearm.
I don't know why his firearm license had been revoked, but now he is being prosecuted for the felony of illegally owning a firearm.
A warrant was issued June 9 for the man on charges of possession of a firearm without a valid FOID card and reckless discharge of a firearm, both felonies, police said.
He was arrested Monday and released after posting bond, and he is scheduled for a June 29 court status hearing, police said.
Online court records do not list an attorney who could speak on the man's behalf.
While violent criminals are killing people on the street of every city in Illinois and running free this man can face prison time!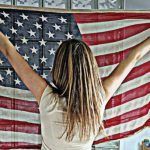 Natalie D. is an American conservative writer! Natalie has described herself as a polemicist who likes to "stir up the pot," and does not "pretend to be impartial or balanced, as broadcasters do," drawing criticism from the left, and sometimes from the right. As a passionate journalist, she works relentlessly to uncover the corruption happening in Washington.She is a "constitutional conservative".