Hollywood Celebrities Honor Fallen Troops On Memorial Day With Powerful Messages
The Folded Flags of Freedom- Courage, bravery, honor, valor…these are but a few of the timeless tributes used to memorialize the silhouette of the American soldier.
America is great because of the people that founded, fought and continue to fight and die for it. That is why they deserve our highest respect!!!
Celebrities Chris Pratt and John Krasinski are Hollywood actors best known for their roles as Andy Dwyer in Parks and Recreation (Pratt) and Jim Halpert in The Office (Krasinski) got together to honor fallen troops on Memorial Day.
On Monday, the two friends did The Murph Challenge—an epic workout that raises awareness for fallen soldiers.
In a video message on Instagram Monday that has since gone viral Pratt explained: "We just knocked out a Memorial Day Murph workout." The two actors talk about how they had just finished taking a physical fitness challenge in honor of Michael Murphy, a Navy Seal, "one of the many in uniform who gave his life for our country."
Pratt added: "It's days …on a day like today, where we just commemorate all those fallen heroes and we say thanks for all you do to make our dreams come true,"
"1 mile, 100 pull-ups, 200 push-ups, 300 air-squats, 1 mile. Do it for time. Check out the challenge and get your shirt at https://www.forged.com/ Thank you to all fallen heroes and their families. Today we remember and honor you," he continued in the caption next to the post.
Today we remember and honor each of the brave men and women who gave their lives for us. #memorialday #murphchallenge @prattprattpratt pic.twitter.com/yeV9osGFMP

— John Krasinski (@johnkrasinski) May 29, 2017
Many other celebrities in Hollywood, took to social media on Memorial Day Monday to honor fallen servicemembers and pay their respects.
Good Memorial Day!Thanks to our service people! Today, let us remember those who acted selflessly – The WaPost https://t.co/5oNyohgrPl

— Mark Ruffalo (@MarkRuffalo) May 29, 2017
Thank you to all the courageous men and women who have paid the ultimate sacrifice defending what we stand for#HonorAndRemember #MemorialDay

— Chris Evans (@ChrisEvans) May 29, 2017
There is never a day when I don't think about the sacrifice & service of the brave men & women who made this country my dream. #MemorialDay pic.twitter.com/gPUVGvkNpf

— Arnold (@Schwarzenegger) May 29, 2017
Let's take a moment to remember those who lost their lives fighting for our freedom #NeverForget #MemorialDay 🙏🏼🇺🇸 pic.twitter.com/wpdWGu2Fyo

— Victoria Justice (@VictoriaJustice) May 29, 2017
Finally, some young Hollywood types that are taking a stand and making a difference for young conservatives!
Respect! Thank you to these Hollywood stars for stepping up and showing what this day is about.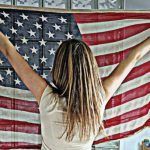 Natalie D. is an American conservative writer! Natalie has described herself as a polemicist who likes to "stir up the pot," and does not "pretend to be impartial or balanced, as broadcasters do," drawing criticism from the left, and sometimes from the right. As a passionate journalist, she works relentlessly to uncover the corruption happening in Washington.She is a "constitutional conservative".