Fresno State Professor Forced to Take 1st Amendment Class After Attacking Students on Constitution (VIDEO)
It is clear the Democrat education system is horrifying. Democrats are always focused on hate.
A Fresno State University Professor Gregory Thatcher who rudely defaced a pro-life student group's chalk messages with his shoe — while simultaneously lecturing the students about how the First Amendment of the U.S. Constitution allegedly works must pay $17,000 in damages, refrain from interfering with the pro-life group's freedom of speech and "undergo two hours of First Amendment training, "as part of a settlement reached Friday.
In a statement issued to the ADF after the settlement was reached Friday, Students for Life of America president Kristan Hawkins shared her hope that what happened at Fresno State University would serve as a wake-up call to other radical professors in America.
Hawkins said: "We hope the outcome of this case helps college officials everywhere understand that the free marketplace of ideas includes college campuses."
She added: "Nationwide, we are seeing incredible opposition to the pro-life speech of our student leaders and volunteers as they speak for the defenseless, reach out to pregnant women, and educate on the violence of abortion. But as this case illustrates, we are not going to be silent, even if it takes going to court."
The nonprofit filed the suit in May on behalf of Fresno State students Bernadette Tasy and Jesus Herrera, members of the university's chapter of the Students for Life of America.
Thatcher allegedly harassed and intimidated the group, accusing them of chalking outside the free speech zone on campus – which hadn't existed at the school since 2015.
"Acting at his direction, these students erased, obscured, and defaced Plaintiffs' messages," the original suit, available for review here, alleged. "One of them even stole Plaintiffs' chalk and used it to write pro-abortion messages on the sidewalks."
In a video clip of the incident, the professor is heard telling to one of the students: "Free speech is free speech in the free speech area. It's a pretty simple concept, okay? This does not constitute a free speech area. Okay?"
After the student insisted they had permission from the university, Thatcher started erasing the chalk with his shoe.
"You have permission to put it down, and I have permission to get rid of it. This is our part of free speech. College campuses are not free speech areas," Thatcher said, "Do you understand? Obviously, you don't understand."
See, not all professors are intelligent. This teacher has no clue what free speech is. Freedom of speech exists anywhere, and everywhere in the United States of America, that is what freedom of speech is.
Sadly, these institutes of "higher education" are becoming a cesspool of leftist hate and bigotry. Soon companies won't hire "college graduates" because of how useless they are.
What do you think about this professor's behavior? Scroll down to comment below!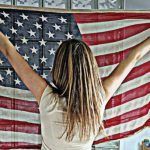 Natalie D. is an American conservative writer! Natalie has described herself as a polemicist who likes to "stir up the pot," and does not "pretend to be impartial or balanced, as broadcasters do," drawing criticism from the left, and sometimes from the right. As a passionate journalist, she works relentlessly to uncover the corruption happening in Washington.She is a "constitutional conservative".