Watch: Racist Democrat Accuses Ben Carson of Being 'White-Wing Nationalist' (Video)
Maxine Waters- the 78-year-old corrupt career politician who thinks Vladimir Putin invaded Korea. Waters is a racist Democrat who cares little about America. What she does care about is the power of the Democratic Party including her own rise to power. That is why media has given her so much attention since Trump's election.
Waters continues to speak her mind and give a voice to the voiceless when it comes to the Trump administration's toxic and divisive politics. Waters recently presided over a stage at Essence Festival in New Orleans and explained to the predominantly black crowd why she feels Trump isn't fit for the presidency.
Watch the video below!
Appearing before the Los Angeles Community Review Board, Waters launched into Trump, Treasury Secretary Steve Mnuchin, and HUD Secretary Ben Carson, according to The American Mirror.
Complaining there is "uncertainty" because of the Trump administration, Waters said, "Mr. Mnuchin, who is the Treasury Secretary, who is responsible for over 36,000 foreclosures in this area, is now the Secretary of the Treasury," repeating herself.
"Standing next to him just yesterday, or a day before yesterday, I'm getting these days mixed up," the 79-year-old California congresswoman said.
She continued, "While the president was defending the white-wing (sic) nationalists and the KKK and all of those alt-right groups that were basically out there in Virginia literally beating and marching and ranting about Jews and black people, etc., etc.," she said.
"But, this is what this Cabinet looks like," she added, turning to Trump's personnel, "where we talking about Mnuchin or Ben Carson," as the audience whooped on the attack.
Waters then promised she would skewer him soon.
"He's got to come before my committee. If you think 'reclaiming my time' that I did with Mnuchin, you wait till Ben Carson comes," she said as the crowd erupted.
Maxine Waters embarrasses herself AGAIN!!
Obviously, her secret assignment is to make Democrats look like idiots. She deserves a raise.
What do you think about this?
If you think Maxine Waters is a crazy old windbag, share this with your friends and family.
Scroll down to leave a comment below!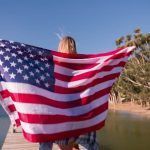 Michelle is American conservative author she is committed to the constitutional principles of individual freedom, economic liberty, limited government, personal responsibility, and traditional values. She is a libertarian and provocateur who believes in freedom and liberty for all Americans. As a passionate journalist, she works relentlessly to uncover the corruption happening in Washington, while exposing politicians and individuals who wish to do us harm.