Couple Gets Mad Because Their Meal Was Cold
A disturbing video that was posted on the Internet shows an older woman and her daughter brutally attacked by a black couple. This incident took place at a fast food restaurant in Baxley, Georgia, and the violent couple, named Nathaniel Eric Smith and Latasha M. Smith had the most stupid reason for the attack…apparently, they were mad because their chicken was cold and they didn't get enough fries.
Food store's owner, Jeanette Norris refunded the money to the couple when they complained the chicken was cold, however when they left the restaurant they began beating repeatedly on the store's window. That is when Norris walked outside to tell the couple she had called the police. Sadly, the couple then went mad and began punching Norris and her 15-year-old daughter when she approached to help her mother. They both suffered deep black eyes, a broken nose, and a concussion.
Luckily, the police issued an arrest warrant for their arrest, charging the two with aggravated battery and cruelty to children. I hope they will be arrested soon and hopefully, they will feel twice the pain that the little girl and her mother felt.
A message that keeps getting repeated. Some people are not capable of living in a civilized society. It is just not in their make-up sadly.
Those two are an embarrassment. You got an apology… Get your money back and move on.
That is what's wrong with people today, just get angry over nothing and fight. These two were just looking a fight. Didn't matter what they were served. Takes a mentally small man to pick on women.
I hope they are brought to justice soon, so they can feel the taste of their own medicine!
What do you think? Scroll down to leave a comment below!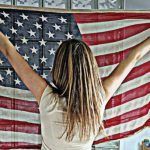 Natalie D. is an American conservative writer! Natalie has described herself as a polemicist who likes to "stir up the pot," and does not "pretend to be impartial or balanced, as broadcasters do," drawing criticism from the left, and sometimes from the right. As a passionate journalist, she works relentlessly to uncover the corruption happening in Washington.She is a "constitutional conservative".