Confirmed-Rosie O'Donnell Forced To Issue Apology To Melania Trump
Liberal celebrity Rosie O'Donnell's fight with President-elect Donald Trump and his wife Melania spilled over to their son Barron after the "A League of Their Own" star went on Twitter and said that he might be autistic. Now, O'Donnell has issued a huge apology to Melania Trump and taken her social media account private.
The lesson? Don't mess with the Trumps.
According to Independent Journal Review, O'Donnell originally made the tweet on Nov. 21. She shared a video while posing the question, "Barron Trump Autistic? if so — what an amazing opportunity to bring attention to the AUTISM epidemic."
The tweet linked to a YouTube video claiming that some of Barron's behaviors were autistic. However, according to its creator — YouTuber James Hunter — he didn't mean it to be used as ammunition in O'Donnell's fight against Trump.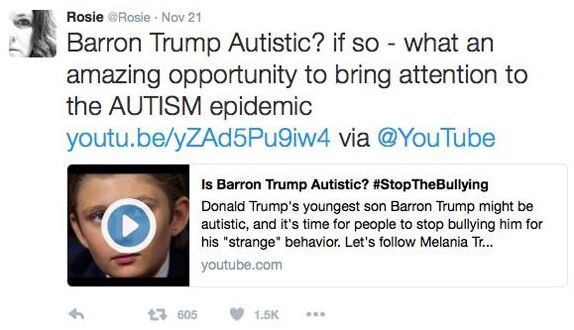 "I never ever meant this as a bullying video," Hunter wrote, according to Us Weekly. "As someone who was diagnosed at age 5 and has gone through bullying myself, I would NEVER do something like that. I made this because I truly believed Barron was on the spectrum, and I wanted people to stop bullying him of his 'weird' behavior and explain to them that it might actually be due to a condition … I never meant to hurt anyone."
While a lawsuit threat from Melania had Hunter taking his video down, the first lady-in-waiting had saved most of her venom for O'Donnell. According to TMZ, "sources say Melania has been indignant at Rosie for doing what she believes was a mean-spirited act."
It didn't take long for Rosie to make her social media account private and issue this statement:
Rosie O'Donnell is a thoughtless bully, and this is yet more proof. Thankfully, once Melania indicated she might be lawyering up against the most infamous and nasty liberal termagant to ever come out of "The View," she quickly realized this was a battle she wasn't going to win.
She may have apologized, but we doubt the Trumps are going to forget this one. As well they shouldn't. It was beyond insensitive.
Please like and share on Facebook and Twitter and let us know if you think Rosie O'Donnell's apology was sufficient for what she did.
What do you think of Rosie's apology?
Alex D is a conservative journalist, who covers all issues of importance for conservatives. He brings attention and insight from what happens in the White House to the streets of American towns, because it all has an impact on our future, and the country left for our children. Exposing the truth is his ultimate goal, mixed with wit where it's appropriate, and feels that journalism shouldn't be censored. Join him & let's spread the good word!