Confederate Flag-Waving Black Woman, Utters 7 Words That Leave Liberals In Shock
I see the Confederate Flag as a reminder of our history and the ones who gave theirs lives for the Civil War on both the North and the South side. Sadly, the Democrats are attempting to erase their contribution to history by blaming others for it and destroying the historical record. This is why they are pushing the false narrative that people who live in the South are racist and hate Confederate flag.
But just because somebody likes our flag does not mean that they are racist.
Back in 2016, an African-American woman Karen Cooper had a lot of courage to say that! Cooper who is a former member of the Nation of Islam from New Your state had an interview with "Battle Flag" in which she sincerely spoked what the Confederate flag means to different segments of society and how it is to live in the South. With only  seven words Cooper described her feelings about those who live in the South and fly the flag:
She said: "People waved to me, I've never known. I felt more welcomed in the South."
Cooper said that the people in the South are friendlier and nicer than she thought. She told the interviewer that in the North, "they claim they like black people," but that everything is more segregated. After moving to Virginia, Cooper said, she found everyone much friendlier.
"I came down here, and we were more together," she stated.
She also made things clear that not all black people hate the Confederate battle.
"I know what people think about when they see the 'Battle Flag'," said Cooper. "They think KKK and 'We hate black people' and 'We wanna bring slavery back.' I knew it was going to be something for people to see a black woman with the battle flag.
"I actually think it represents freedom, a people who stood up to tyranny," Cooper added. "By me being out there (waving flags with other 'flaggers'), I hope that you would see that this is not racist. How can it be racist when I'm out there with (whites) hugging them and they're my best friends?"
I respect her. History is always there no matter how many monuments liberals tear down. You can't change history because it already happened! If we delete history we are doomed to repeat. Leave the history to be a reminder of what it was not what it is.
Do you agree with Karen? Share this article with your friends on Facebook to help us spread her message of love.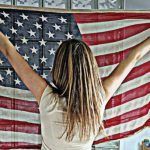 Natalie D. is an American conservative writer! Natalie has described herself as a polemicist who likes to "stir up the pot," and does not "pretend to be impartial or balanced, as broadcasters do," drawing criticism from the left, and sometimes from the right. As a passionate journalist, she works relentlessly to uncover the corruption happening in Washington.She is a "constitutional conservative".