Chelsea Handler Tweets VILE Attack On Kellyanne Conway, Gets Trashed Instantly!!!
Comedian Chelsea Handler was one of the so-called Hollywood celebrities who vowed to leave the country if Donald Trump was elected president during the 2016 election. Sadly for us, she is not a promise keeper.
Since then, Handler is trying hard to be a "loud voice of opposition" and that is exactly what she is! She was doing stupid things on multiple occasions- she blamed the Kardashians for Trump's victory, told people that they should "get over" the Kathy Griffin/Trump-severed-head fiasco, attacks President Trump constantly and mocks people from his administration.
Now for no apparent reason, she twitted vile attack on Kellyanne Conway saying: " Here's a word of the day @ Kellyanne Conway you're a f*****g idiot."
Here's a word of the day @KellyannePolls you're a fucking idiot.

— Chelsea Handler (@chelseahandler) July 13, 2017
But, there is only one problem! We are not sure which is the word of the day… "fucking", "Idiot" or "You're!"
It didn't take long before others came to Conway's defense, asking Handler which of her three words was her "word of the day."
well technically that's not One word. pic.twitter.com/VKh8axcYq6

— Grace Vasquez (@itsYourGrace) July 13, 2017
A word? and then you say more than one! Looks like you were drunk twittering again! 😳 That's gonna hurt 🙄 pic.twitter.com/PkHcpFcNn1

— ALTRobert (@altrobertalt) July 14, 2017
Says the high school graduate about the woman with a bachelor and law degree……

— Cynthia Rennolds (@CynthiaRennolds) July 13, 2017
— K9-Commander (@Patriot_in_CA) July 13, 2017
I wonder- do Chelsea has a problem with women in general or just women who don't agree with her politically? But when I think better, apparently she has a problem with all the man kind!
This is an example of where the phrase "Dumb Blond: came from… All mouth and no brains! Comedian, but the joke is on her!
With her vile constant comments, this woman makes even The View women look like virtues of innocence! Handler's middle name is CRUDE!!
What do you think of Handler's insults on Conway? Scroll down to leave a comment below!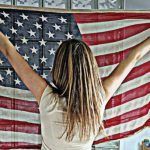 Natalie D. is an American conservative writer! Natalie has described herself as a polemicist who likes to "stir up the pot," and does not "pretend to be impartial or balanced, as broadcasters do," drawing criticism from the left, and sometimes from the right. As a passionate journalist, she works relentlessly to uncover the corruption happening in Washington.She is a "constitutional conservative".