Anthony Scaramucci Got The Worst News Of His Life Right After He Joined Trump!
If a President, ANY President asks you to work for them you go. It's a 24/7 job for a greater good. Apparently, White House Communications Director Anthony Scaramucci's wife does not share this opinion. Yesterday his wife Deidre Scaramucci, surprised everybody including Anthony when she filed for divorce. Her reason- Anthony's political ambitions.
I guess taking marriage vows, like "until death do us part," have no real meaning.
Apparently, Scaramucci's wife who worked as a vice president in investor relations for SkyBridge Capital, the firm he founded in 2005 and sold to ascend to the White House, filed for divorce after three years of marriage because of Scaramucci's efforts to get close to President Donald Trump.
"She liked the nice Wall Street life and their home on Long Island, not the insane world of DC," a source told the paper. "She is tired of his naked ambition, which is so enormous that it left her at her wits' end. She has left him even though they have two children together," a source told The New York Post.
Another source revealed: "Deidre is not a fan of Trump, and she hasn't exactly been on board and supportive of Anthony and his push to get back into the White House."
He added: "Anthony is focusing on his children, his work for the president and the American people. There is nothing more important to him.
"I don't know who Deidre thought she was marrying but anyone who knows Anthony knows he's an ambitious man."
Scaramucci responded to reports of his divorce news by tweeting on Friday: "Leave civilians out of this. I can take the hits, but I would ask that you would put my family in your thoughts and prayers & nothing more."
Sad excuse to get a divorce. However, if she doesn' support Trump, she should at least support her husband. I guess "for better or for worse" means NOTHING anymore.
What do you think? Do you justify Deidre decision? Scroll down to leave a comment below!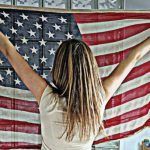 Natalie D. is an American conservative writer! Natalie has described herself as a polemicist who likes to "stir up the pot," and does not "pretend to be impartial or balanced, as broadcasters do," drawing criticism from the left, and sometimes from the right. As a passionate journalist, she works relentlessly to uncover the corruption happening in Washington.She is a "constitutional conservative".