Anonymous Releases Message To President Donald Trump
Our President can and would fulfill his promises if the Democrat party would let him. Instead of working with him they have fought against everything he has tried to do.
On July 10-th Anonymous has come out with a new video on their YouTube channel.
Message to the president of the United States
We are Anonymous. We are Legion. We do not forgive. We do not forget.
Expect us.
This message is bringing attention to the recent events taking place as a result of Trump's call to attack Syria, which was based on Intel his administration received about Assad's apparent chemical weapons attack on his own people — an event for which there is no evidence.
Watch the video:
We the people stand by our President Trump, all the way! We represent 100 million Americans strong who will not allow the fairy state Islamic state or deep state to rob American of a leader hired by the majority of true Americans! We are legion in every region!
We stand behind him and will do whatever is asked to protect the USA. Our president is doing so much for us, he works so hard but he must concentrate on the important things that hand. President Trump had to lead the charge and hard decisions have to be made!!!
America First.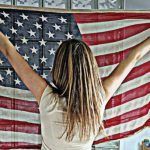 Natalie D. is an American conservative writer! Natalie has described herself as a polemicist who likes to "stir up the pot," and does not "pretend to be impartial or balanced, as broadcasters do," drawing criticism from the left, and sometimes from the right. As a passionate journalist, she works relentlessly to uncover the corruption happening in Washington.She is a "constitutional conservative".