America's Worst Nightmare: FBI Reveals The Terrifying Truth About Antifa Members "Day Jobs"
Antifa masked terrorists are clearly the enemy of this constitutional republic. They are as clear of a danger to it as are the teachers, politicians, and media that coach them, train them, enable them and even cheer them…and yes, join them.
They are at every level, not just in far left Berkeley. They are in your state, your city, your neighborhood.
Via The Daily Caller: "Public school teachers are behind a leading far-left militant group that is part of the Antifa network that federal officials say is committing "domestic terrorist violence."
By Any Means Necessary, which has played a key role in riots in Berkeley, Sacramento and elsewhere, has dozens of public school teachers among its members, including among its most prominent leaders.
The FBI and Department of Homeland Security began paying closer attention to Antifa groups in general after BAMN and other extremists started a riot and attacked marchers at a white nationalist rally in Sacramento last July, Politico reported on Friday. The Sacramento violence left at least 10 people hospitalized, several of whom had knife wounds.
One of BAMN's most prominent organizers is Yvette Felarca, a Berkeley middle school teacher, and pro-violence militant. Felarca currently faces charges of inciting a riot for her role in the Sacramento violence.
The FBI and DHS say Antifa groups like BAMN are engaging in "domestic terrorist violence," according to the Politico report.
BAMN organizer and high school teacher Nicole Conaway organized a "sickout" at her school in 2015, leading other teachers in calling in sick to protest the policies of Republican Gov. Rick Snyder. The sickout forced six Detroit-area schools to cancel classes, affecting nearly 4,000 students.
One month later, Conaway led students in a school walkout protesting poor building conditions. She was one of three BAMN organizers arrested in connection with the protest. Other BAMN members have led similar protests at the schools where they teach.
In Berkeley, Felarca and other BAMN members repeatedly abused their positions of influence over students in service of their own radical goals, Berkeley's public school district charged in court filings obtained by local news organization Berkeleyside."
Sadly this explains a lot. This is how we've managed to brainwash entire generation into thinking communism and socialism are good ideas despite seeing how well communism and socialism have worked throughout history. This is exactly why we have a generation of young people unprepared to be productive. We have too many teachers pushing a political agenda, not enough teaching kids about STEM. Not enough emphasis on industry or autonomy. Everyone is looking for "big government" to make everything better for them.
Breitbart reported that Berkley Mayor Jesse Arreguin is a member of the anti-fascist group, By Any Means Necessary (BAMN), on Facebook. They also added that BAMN was investigated for engaging in terrorist activities in 2005 by the FBI. In 2009, the Department of Defense classified the group's activities as "low-level terrorism." In June 2016, BAMN led a violent counter-protest outside a white nationalist rally that resulted in ten people being hospitalized with stab wounds.
#Berkeley Mayor Jesse Arreguin not only member of #BAMN but also friends of #RadicalLiberalTerrorist Yvette Falarco #AntiFA #DefundBerkeley pic.twitter.com/QnFPKCIHzU

— TX Intense TV 🇺🇸 (@TxIntenseRadio) April 21, 2017
These terroristic groups did serve a purpose, to fully bring the Democrats out from behind their fake pretense that they care about people and are tolerant.
The second purpose is to ensure even more people will vote against them the next time. The third is to demonstrate that the violence was from the Left…not the Tea Party, not from Trump. However, they all need to be wiped off the face of the earth. No civilized nation on earth should have to put up with terror groups like "Antifa."
What do you think? Scroll down to leave a comment below!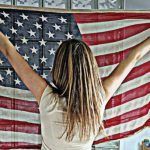 Natalie D. is an American conservative writer! Natalie has described herself as a polemicist who likes to "stir up the pot," and does not "pretend to be impartial or balanced, as broadcasters do," drawing criticism from the left, and sometimes from the right. As a passionate journalist, she works relentlessly to uncover the corruption happening in Washington.She is a "constitutional conservative".