Amazing! Ivanka Trump Made History After What She Did In White House Last Night!
When it comes to reporting about Trump and his family, media only covers the bad news. However, we are here to inform you with the truth!
On Thursday morning, Ivanka Trump was spotted leaving her plush rented home. The 35-year-old mother of three sat in the backseat talking on her phone as she and two Secret Service agents drove to the Mayflower Hotel.


There Ivanka attended a roundtable discussion with Latina small business owners organized by the US Hispanic Chamber of Commerce.


One of the attendees, Lili Gil Valletta, shared details about the 'inspiring' meeting on Facebook later in the day, saying it was an 'honor' to be at the table.
"This is a historic first, making it her first meeting with Latina entrepreneurs. We talked about our businesses, the challenges we face as women and left the door open to jointly collaborate to advance opportunities for all women."
Javier Palomarez, the president and CEO of the USHCC, and earlier this year accepted a position as an informal adviser to the Trump administration was also at the table, sitting across from Ivanka Trump.
He said: 'Throughout our ongoing conversations, Ivanka has made it apparent that she cares about empowering American women, particularly those in the entrepreneurial community."
"I was happy to convene a group of Hispanic women small-business owners and provide the opportunity for a substantive dialogue on a range of issues. We discussed the challenges and notable advances Latinas are making by growing their enterprises and driving job creation in diverse sectors and communities nationwide."
He then closed out by stating: 'We were delighted by her strong command of the issues facing women in small business, and her willingness to engage first-hand with the most dynamic sector of our business community.'
Fake media can keep on fighting and report only bad news, but you'll not win! This family with their actions will roll over the negativeness that's out there, and they will make a difference.
As regards to Ivanka, I must say she is doing a great job.
In fact, this is what the women's March doesn't accomplish. They just want to attack and spread lies and they offer nothing. Ivanka said she would work on women issues and here she is. But doesn't surprise me! Ivanka has only just begun!!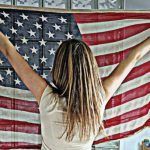 Natalie D. is an American conservative writer! Natalie has described herself as a polemicist who likes to "stir up the pot," and does not "pretend to be impartial or balanced, as broadcasters do," drawing criticism from the left, and sometimes from the right. As a passionate journalist, she works relentlessly to uncover the corruption happening in Washington.She is a "constitutional conservative".