4 Key Witnesses From Las Vegas Shooting Are Now Dead Or Missing…Coincidence Or A Major Cover Up?
At least 58 people are dead and 500 are injured in the deadliest mass shooting in US history after Stephen Craig Paddock opened fire on the Route 91 Harvest country music festival in Las Vegas, Nevada. But, as if this was not bad enough, other strange and bad things began to happen.
Almost 4 survivors of the Las Vegas shooting are now dead or missing. 28-year old Kymberley Suchomel who was not injured during the shooting at the Route 91 music festival and claimed there were multiple gunmen involved in the shooting was found dead a week after the shooting. She was found deceased just days before the Las Vegas Police Department made a significant change to their official timeline of events on the night of the mass shooting.
But, Suchomel isn't the first key witness to have died since the shooting attack. John Beilman killed himself and his disabled daughter in a horrific murder-suicide shortly after the FBI raided his home. Beilman was wanted for questioning by federal agents in connection with a communications device discovered in suspected shooter Stephen Paddock's hotel room.
Earlier this week, a valet worker from the Mandalay Bay hotel who parked suspected shooter Stephen Paddock's car, disappeared without a word to friends or colleagues.
Chad Nishimura mysteriously vanished shortly after he gave a statement to a local news network saying that Paddock was just a "normal guy" and that "he didn't have many bags."
Also, Jesus Campos, the Mandalay Bay security guard who was credited with stopping the Las Vegas massacre was supposed to break his silence Thursday night with five television interviews. But when it came time for Campos to tell his side of the story, he was nowhere to be found. Campos who was shot outside Stephen Paddock's room mysteriously vanished leaving no clue where he might be now.
Evidence of a conspiracy? What I know in my heart is that we are not getting the whole story. We are being delivered a cover-up of some sort. We have way too many other diversions in this country going on at the same time to keep us occupied for something bigger looming in the future.
The scary thing is there is just too much for this to be a coincidence… the more I hear about this incident, the more it smells.
However, we wouldn't be too quick to jump on with conclusions. Hopefully, the truth will come out soon. Now is a way too early to know the answers! Let investigators do their job over the next several months and then we will find out the true nature of this attack.
What do you think? Were these events only a coincidence…or not? Scroll down to leave a comment below!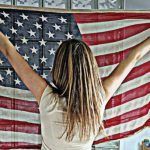 Natalie D. is an American conservative writer! Natalie has described herself as a polemicist who likes to "stir up the pot," and does not "pretend to be impartial or balanced, as broadcasters do," drawing criticism from the left, and sometimes from the right. As a passionate journalist, she works relentlessly to uncover the corruption happening in Washington.She is a "constitutional conservative".