Tim Allen: It's Like '30s Germany" For Conservatives In Hollywood
American actor, comedian, and author Tim Allen, during an interview with late-night host Jimmy Kimmel Thursday night, opened up about how it feels to be a conservative in Hollywood these days and explained that one must be "real careful" in talking about President Donald Trump or else risk being beaten up.
He said:"You've gotta be real careful around here. You get beat up if don't believe what everybody believes. He then joked: "This is like '30s Germany. I don't know what happened. If you're not part of the group, 'you know what we believe is right,' I go, 'Well, I might have a problem with that.'"
Allen had experienced a bit of backlash over his previous comments about Trump. "What I find odd in Hollywood is that they didn't like Trump because he was a bully.  But if you had any kind of inkling that you were for Trump, you got bullied for doing that. And it gets a little bit hypocritical to me."
[youtube https://www.youtube.com/watch?v=C9vH1lyoS_A]
During the conversation, Allen recalled his experience at Trump's inauguration and told Kimmel he had never been to anything like that before.
"This government does stuff big. Just so many people, and when they show up, you know, the ex-president gets in a helicopter and there is jets and marines taking him this way and there is parades, but it looks like a Cadillac parade, everything was just rows of Cadillacs." Allen said.
"My kids were going, 'Is this the parade?' It's like black Cadillac after black Cadillac and then a tractor," he joked.
During the 2016 campaign, Allen was one of the few celebrities with positive things to say about Trump. He also complemented Trump in January of last year, telling that Trump seemed like a candidate who "might be able to do the stuff that really needs fixing.
Exactly Tim Allen…they scream at and bully people who don't agree with them. What is sad is that they think that is alright…they think they are above the rest who do not have same oppinion as them. Comedians have gotten too political….it's always been funny to do political jokes, but now they are vicious and evil.
Finally somebody says it as it is! This may be one of the smartest things that has been said in a very very long time coming from Hollywood.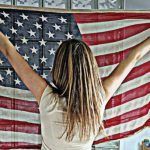 Natalie D. is an American conservative writer! Natalie has described herself as a polemicist who likes to "stir up the pot," and does not "pretend to be impartial or balanced, as broadcasters do," drawing criticism from the left, and sometimes from the right. As a passionate journalist, she works relentlessly to uncover the corruption happening in Washington.She is a "constitutional conservative".