SHAME!!! MSNBC: IT'S NOT YOUR JOB ANYMORE TO CONTROL WHAT TO THINK, THAT IS OUR JOB AND ALWAYS WILL BE!
The media constantly served us the news in a way that suits them and expected to believe them. Yep, we were supposed to think whatever they tell us….but thank the Lord, there are enough of us that know better.
It's interesting how the media lately constantly blame the White House for a "propaganda state," when in reality they are the one stating their job is to control "exactly what people think."
SCARBOROUGH: "Exactly. That is exactly what I hear. What Yamiche said is what I hear from all the Trump supporters that I talk to who were Trump voters and are still Trump supporters. They go, 'Yeah you guys are going crazy. He's doing — what are you so surprised about? He is doing exactly what he said he is going to do.'"

BRZEZINSKI: "Well, I think that the dangerous, you know, edges here are that he is trying to undermine the media and trying to make up his own facts. And it could be that while unemployment and the economy worsens, he could have undermined the messaging so much that he can actually control exactly what people think. And that, that is our job."
Well isn't this ironic?? Saying this (what we all knew) is actually the first time they tell the truth. If this doesn't WAKE YOU UP about where this country is headed, then our country will be dead.  And that is why Trump was elected.We are tired of the media trying to control us! They only need to report the TRUE FACTS and let US DECIDE!!!! We don't need them to tell us how to think!
This is a message to MSNBC: IT'S NOT YOUR JOB ANYMORE TO CONTROL WHAT TO THINK. THAT IS OUR JOB AND ALWAYS WILL BE!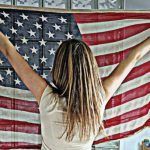 Natalie D. is an American conservative writer! Natalie has described herself as a polemicist who likes to "stir up the pot," and does not "pretend to be impartial or balanced, as broadcasters do," drawing criticism from the left, and sometimes from the right. As a passionate journalist, she works relentlessly to uncover the corruption happening in Washington.She is a "constitutional conservative".