President Trump Personally Congratulated USS Ross, USS Porter Commanding Officers
On Sunday, President Trump made a drastic change from previous years and made something awesome that made us all proud to be Americans!
We now finally have President who actually loves and respects our armed forces and veterans. It's so refreshing.
Needless to say that we are so proud to finally have a great leader who finally represents the American people.
After he returned to the White House, President Donald Trump personally called both commanders of the two missile destroyers who carried out the mission in Syria to thank them for their exceptional performance on the mission.

Trump talked to Cmdr. Russell Caldwell (USS Ross) and Cmdr. Andria Slough (USS Porter) and he congratulated them and their crews for their professionalism and quick response to the tasking to conduct a cruise missile strike against Shayrat airfield in western Syria, April 7, 2017.
In a statement Cmdr. Russell Caldwell said: "The success of this mission hinged upon our Sailors' excellent training, technical knowledge, and dedication to their work. It was a distinct honor to hear firsthand from our commander in chief that these operations had a direct impact in support of his national objectives.

Cmdr. Andria Slough said the president was particularly impressed with the performance of her ship during the strike. "In general, the President was impressed with Porter's precision and lethality. It was obvious he was extremely pleased with our performance and is glad we're out here patrolling in U.S. 6th Fleet," she said.

Previously, Trump had thanked the military as a whole the day before. He tweeted: "Congratulations to our great military men and women for representing the United States, and the world, so well in the Syria attack."
This is the respect that the Commander and Chief should show for the military.
Thank you, President Trump, for demonstrating great grace in thanking these two commanders and their crews! They fight for our freedoms…I appreciate all they do for us every day!
Your recognition and respect for our troops is outstanding and greatly appreciated.
I am very proud of how Donald Trump supports our military! It's nice to know we have President Trump, who LOVES AMERICA having our backs and well-being.
This is the man who the Dems have labeled as a misogynist, racist, elitist, and a threat to American values. By taking just 1 day out of his life, all these lies are shown for what they are, partisan politics meant to disenfranchise the American voters. Our President stands for our values as a country, despite all the obstructionism and lies on the left, America will be great again!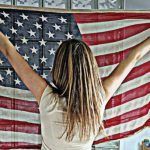 Natalie D. is an American conservative writer! Natalie has described herself as a polemicist who likes to "stir up the pot," and does not "pretend to be impartial or balanced, as broadcasters do," drawing criticism from the left, and sometimes from the right. As a passionate journalist, she works relentlessly to uncover the corruption happening in Washington.She is a "constitutional conservative".