WATCH: LGBT Brainwashing Camps are Looking to Recruit Kids as Young as Four!!
Satin is really happy the way the LGBT community is being accepted by our country.
A summer camp for transgender and "gender fluid" children is taking in children as young as 4.
Watch the video below!
"I didn't know you could be transgender at a very young age," said the founder of the camp. "But my daughter knew for sure at 2," Hot Air reported.
Before commenting, be advised that skepticism qualifies as a thought crime under Section 317 of the Online Penal Code.
Gender specialists say the camp's growth reflects what they are seeing in gender clinics nationwide: increasing numbers of children coming out as transgender at young ages. They credit the rise to greater openness and awareness of LGBT issues and parents tuning in earlier when a child shows signs of gender dysphoria or distress about their gender…
"I just think there's a lot more openness to the understanding that trans adults start as trans kids," [clinician Johanna] Olson-Kennedy said. "When people say, 'Isn't this too young?' my question back to them is, 'Too young for what? How young do people know their gender?' The answer to that is some people know it at 3, and some people know it at 30."
Diane Ehrensaft, director of mental health at the University of California, San Francisco's Child and Adolescent Gender Center, says enrollment there has tripled over the past few years with a "sea change – maybe we can even call it a tsunami – in the number of little kids showing up with their families."
Liberals know no shame!!
California used to be a dream state many, many years ago. Now it's a weirdo freak circus state that allows the devil to rule and make stupid laws. Too many people are attracted to the sin that California lives by. Man, I'm glad I don't live there!!
What do you think about this?
Scroll down to leave a comment below!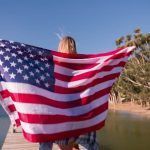 Michelle is American conservative author she is committed to the constitutional principles of individual freedom, economic liberty, limited government, personal responsibility, and traditional values. She is a libertarian and provocateur who believes in freedom and liberty for all Americans. As a passionate journalist, she works relentlessly to uncover the corruption happening in Washington, while exposing politicians and individuals who wish to do us harm.