ICE Investigation Discovers Horrifying Alien Smuggling Plot In This State
Sanctuary cities that harbor illegal immigrants encourage the industry of human smuggling. People are being lured with a promise of a better life and they are used for criminal activities such as human trafficking. But often, this illegal activity can have deadly consequences.
A horrifying discovery of eight dead immigrants and 30 others injured people were found in a tractor-trailer in a Walmart parking lot in San Antonio, Texas on Sunday. According to officials, the driver of a tractor-trailer James M. Bradley Jr., 60 is in federal custody.
The truck was parked at a back corner of the Walmart parking lot at 8538 S. Interstate 35 and Texas 16 on the Southwest Side at least since Saturday night. The eight immigrants are believed to have died as a result of heat exposure/asphyxiation, according to a San Antonio Police Department news release, but an official cause of death will be determined by the Bexar County Medical Examiner's Office.
In a statement released by federal immigration authorities on Sunday morning, the U.S. attorney for the Western District of Texas, Richard L. Durbin Jr. wrote: "They discovered an alien smuggling venture gone horribly wrong. Eight immigrants were found dead. All were victims of ruthless human smugglers indifferent to the well-being of their fragile cargo."
Officials said it was a refrigerated trailer but the air conditioning wasn't working.
DurbinJr. said: "The South Texas heat is punishing this time of year. These people were helpless in the hands of their transporters. Imagine their suffering, trapped in a stifling trailer in 100-plus degree heat. The driver is in custody and will be charged. We will work with the Homeland Security Investigations and the local responders to identify those who were responsible for this tragedy."
The injured people were taken to at least seven local hospitals by helicopter, ambulances and a mobile mass casualty transportation vehicle.
Fire Chief Charles Hood said: "Our paramedics and firefighters found that each one of them had heart-rates over about 130 beats-per-minute, which again they were very hot to the touch. These people were in that trailer without any signs of any type of water, so you are looking at a lot of heat stroke, a lot of dehydration. As Chief McManus mentioned, we do have at least two school-aged children."
Walmart truck gets inspected by investigators

Posted by Sue Calberg on Sunday, July 23, 2017
Officials said they did not yet know where the trailer had come from or how long it had been in San Antonio.
ICE Acting Director Thomas Homan said in a statement on Sunday that the incident was "horrific" and said smuggling networks "have repeatedly shown a reckless disregard for those they smuggle, as last night's case demonstrates.
"By any standard, the horrific crime uncovered last night ranks as a stark reminder of why human smuggling networks must be pursued, caught and punished," he said in the statement.
He said in the fiscal year 2016, Homeland Security Investigations launched 2,110 human smuggling investigations, which resulted in 1,522 criminal convictions.
Sadly, this has happened because of liberal sanctuary cities. They continue to attract these people and encouraging them to break the laws! Illegals will do anything to get there, including dying. Sorry, the blood is on the liberals hands. It is time to abolish these cities.
No matter how you look at this, human Smuggling is ILLEGAL FOR A REASON! There is a solution to a lot of these problems waiting. Or does the left have a vested interest in drug trafficking, drug wars, prisons for profits, human trafficking, sex trafficking and in bed with the cartels? Hmm, makes one wonder.
What do you think? Share this article with your friends on Facebook and scroll down to leave a comment below!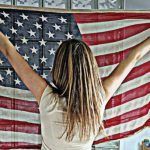 Natalie D. is an American conservative writer! Natalie has described herself as a polemicist who likes to "stir up the pot," and does not "pretend to be impartial or balanced, as broadcasters do," drawing criticism from the left, and sometimes from the right. As a passionate journalist, she works relentlessly to uncover the corruption happening in Washington.She is a "constitutional conservative".