House Joins Trump In His Efforts To Crack Down The Illegal Immigration
Finally, we have a President who works hard for the American people!
On Thursday the House passed Kate's Law and a bill to punish sanctuary cities for failure to cooperate with the immigration law enforcement. Kate's Law was named after Kate Steinle, an American woman who was killed by a repeat criminal illegal alien that was protected by California's sanctuary city laws. Kate's law was a key priority of President Trump's efforts to crack down the illegal immigration. This is finally a great closing for Kate's family.
Except for Kate's Law, the House approved one other bill that would impose tougher sentences on criminals who have entered the U.S. illegally multiple times.
The author of both bills House Judiciary Committee Chairman Bob Goodlatte said: "For years, the lack of immigration enforcement and spread of sanctuary policies have cost too many lives."
On Wednesday Trump met with families of victims of crimes that were committed illegal immigrants, and highlighted their deaths as preventable. on Thursday, Attorney General Jeff Sessions did the same. Also, House Speaker Paul Ryan brought Homeland Security Secretary John Kelly to join him at his weekly press conference also Thursday to drive home the message.
"Sanctuary cities are anything but safe," Kelly said, carrying on the theme. "Instead these are places that allow some criminals to go free."
The "No Sanctuary for Criminals Act" bill passed 228-195 with three Democrats voting yes among who were Reps. Matt Cartwright (Pa.), Henry Cuellar (Texas) and Collin Peterson (Minn.), and seven Republicans voting no. The Republicans who voted against the bill are Reps. Justin Amash (Mich.), Carlos Curbelo (Fla.), Mario Diaz-Balart (Fla.), Dan Donovan (N.Y.), Peter King (N.Y.), Dave Reichert (Wash.) and Ileana Ros-Lehtinen (Fla.).
Kate's Law bill passed 257-167. 24 Democrats voted for the bill, but Congressman Amash was the only Republican to vote against Kate's Law. In a tweet, he explained his opposition to both Kate's Law and the No Sanctuary for Criminals Act, saying that they would violate the Constitution.
I voted no today on two bills that together violate the 1st, 4th, 5th, 10th, and 11th Amendments. I will always defend our Constitution.

— Justin Amash (@justinamash) June 29, 2017
Amash did not explain how exactly Kate's bill would violate Constitution but this coming from the man who said Trump should be impeached and sympathized with Black Lives Matter simply means Amish decided that illegal immigrants are more important that U.S citizens.
Finally! And thanks to President Trump! He kept his promise he gave to the families of victims of crimes that were committed by illegal immigrants.
It's about time to show all the legal immigrants that all the time, money and hard work it took to come here and become citizens was not just a waste. Our laws on immigration are not there to keep people out, they are there to keep the wrong people out and to protect our citizens.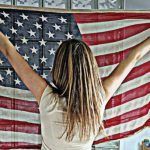 Natalie D. is an American conservative writer! Natalie has described herself as a polemicist who likes to "stir up the pot," and does not "pretend to be impartial or balanced, as broadcasters do," drawing criticism from the left, and sometimes from the right. As a passionate journalist, she works relentlessly to uncover the corruption happening in Washington.She is a "constitutional conservative".