Democrat Jerry Brown Blasted Law-Abiding Taxpayers As "Freeloaders"
Brown and the leftwing Democrats have definitely destroyed California, and I don't know if it can be saved.
By their understanding, American taxpaying citizens are freeloaders, and not the millions of people here illegally claiming what's left of the benefits from bankrupt California.
From The Daily Wire:
At an event last week in Orange Country, California, that state's governor, Democrat Jerry Brown, blasted law-abiding taxpayers as "freeloaders."
The context involves Brown's recent $52 billion tax hike, which includes a direct attack on the middle and working class through a 12 cent increase in the gas tax, which is already the 7th highest in the country, and an annual $50 increase (that will continue to increase based on the rate of inflation) in the vehicle registration fee.
During a speech at an event aimed to defend a Democrat lawmaker facing a recall effort over the tax hike."The freeloaders Brown said: I've had enough of them. … They have a president that doesn't tell the truth and they're following suit."
The left has overstepped their bounds and because of it there probably will be a war! First and for most, they have forgotten the laws and the fact that this is America and WE the American people come first before illegals, refugees or anyone else!
In California, taxpayers are called freeloaders by the government. Disgusting! This just shows how intelligent Jerry Brown is and what a good judge of character he is….not!
I have always wondered why Californians continued to vote for this man…He doesn't want to be governor, he wants to be their ruler and king…I hope they learn and vote him out or throw him out…
However, if California's full liberal agenda is realized it would serve as a living example of the failure of those policies for the rest of the country.
Would Californians finally WAKE up?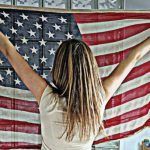 Natalie D. is an American conservative writer! Natalie has described herself as a polemicist who likes to "stir up the pot," and does not "pretend to be impartial or balanced, as broadcasters do," drawing criticism from the left, and sometimes from the right. As a passionate journalist, she works relentlessly to uncover the corruption happening in Washington.She is a "constitutional conservative".