Deja Vu! Liberals Attack Melania Trump Because Of Her Outfit In Puerto Rico Today! Here Are The Photos!
I am sure everybody still remembers when Donald and Melania Trump left the White House, the First Lady sparked an avalanche of media hot takes by wearing high heels when she departed DC for Texas (later changing into sneakers of course). Today, the First Lady's giving the media another chance to beclown themselves.
Melania proved yet again that she didn't care about the criticism of her heels and wore them as she boarded the plane. President Donald Trump wore the same thing he wore during both Hurricanes Irma and Harvey.
This time too as in Texas, Melania was dressed in a totally different outfit when she stepped off the plane

However, some people still found a way criticize her about her outfit! Well, petty people waste time on petty things!
lol Melania is wearing white jeans and Timbs in Puerto Rico

— Katherine Krueger (@kath_krueger) October 3, 2017
Melania Trump wearing Timberland boots as if she's going to go work in Puerto Rico. 🙄

— Eric iS Here (@E_Narvaez14) October 3, 2017
I swear it is never ending!! Shut the hell up!! She can and will wear whatever she wants! I wonder what did you wear when you went to Puerto Rico to help?
Las Vegas shooting, hurricane destruction in a lot of places, sanctuary cities harboring illegals and the libs are worried about shoes???? It is a sad day in the land when people have nothing better to do with their time than to condemn someone for their attire! There is so much devastation and hatred in this world it is beyond sickening !!
It makes no difference what she wears! People just want to whine about something. I'm guessing the reason she is there is less important to them than the fact what is she wearing! Shallow is not low enough to describe them all.
Grow up. Find something REALLY important to worry about.
Share and comment leave Melania Trump alone!
Scroll below to leave a comment below!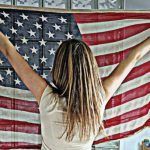 Natalie D. is an American conservative writer! Natalie has described herself as a polemicist who likes to "stir up the pot," and does not "pretend to be impartial or balanced, as broadcasters do," drawing criticism from the left, and sometimes from the right. As a passionate journalist, she works relentlessly to uncover the corruption happening in Washington.She is a "constitutional conservative".