Woman Attacked After Confronting Asian Trio Who Racially Abused Her
It is horrifying that Muslim immigrants believe that they own the streets because there are people in our government which allow them to get unpunished for everything bad they are doing.
Sadly, that means average citizens, our woman, our children are forced to endure mounting harassment, abuse or worse. Until they get the deserved punishment they will continue to do this. They are animals!
But, until they get the deserved punishment they will continue to do this. They are animals!
A shocking moment was caught on CCTV footage of a 34-year-old woman being beaten up in a racist assault by Asian thugs.
The men broke the woman's nose before trading blows with her boyfriend.
Maybe the most disturbing thing is the fact that the Muslim THUGS began verbally harassing the woman for no reason. She had been walking home with her partner after a night out, and as soon as the Muslim group starts racially abusing her, she confronted the men only to have them demonstrate exactly how Muslim men treat "infidels."
Unfortunately for her, she ended up with a fractured nose and cheekbon.. after that the Muslims set in on her boyfriend.
West Midlands Police have released the CCTV footage and want to speak to the three Asian men who are seen brawling in it.
A police spokesman today confirmed that "three men shouted a racist comment at the victim."
He said: "When she tried to confront them she was assaulted and sustained fractures to her nose and cheekbone."
[youtube https://www.youtube.com/watch?v=3WK1Tu1zqa0]
Women are all they seem to pick on – they always attack those who are weaker of them and they have to do that in packs! Hitting a woman is a disgrace too!
It will only get worse if we allow them! That's, why the police should arrest these men and then they should be deported from our country!!!
We should thank the left snowflakes who allowed this to happen to this country!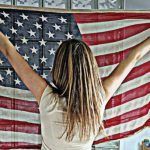 Natalie D. is an American conservative writer! Natalie has described herself as a polemicist who likes to "stir up the pot," and does not "pretend to be impartial or balanced, as broadcasters do," drawing criticism from the left, and sometimes from the right. As a passionate journalist, she works relentlessly to uncover the corruption happening in Washington.She is a "constitutional conservative".