CONFIRMED! Minneapolis Police Searched Justine Damond's Home After They Killed Her?
There is no excuse for the unprovoked murder of an unarmed woman. Full stop. No matter how hard these pathetic people try to find a justification retrospectively.
Still, a lot of questions stayed unanswered after nearly two weeks after Somali cop shot and killed Justine Damond. Now a new question remains unanswered- Why investigators searched Damond's house for bodily fluids, weapons, and drugs after the bride-to-be was shot and killed by a U.S. police officer.
According to court records released on Wednesday, investigators asked for two search warrants, one for the alley behind Justine's house where she reported a potential rape, and another for her house itself.
This story just keeps getting worse. Trying desperately to justify their horrific actions. Afterall, they should search the cop's house. The last woman he beat up, was left with permanent damage to her arm. He is a menace and should be charged.
Criminal expert Joseph Daly said there was no reason for detectives to search Damond's home.
"When I read that I really cannot find probable cause to search her home," Daly told 5 Eyewitness News. "I don't understand why they're looking for bodily fluids inside her home."
"Whose bodily fluids are they looking for? Is she a suspect? I don't understand why they're looking for controlled substances inside her home. I don't understand why they're looking for writings inside her home. The warrant does not explain that to me," said Daly.
"I think the Australians are going to go berserk if they think that the focus is on this woman as a suspect."
Via KSTP, Minneapolis/St. Paul: "According to court documents, investigators applied for the warrant on the following grounds:
The property or things above-described was used as a means of committing a crime
The possession of the property or things above-described constitutes a crime.
The property or things above-described is in the possession of a person with intent to use such property as a means of committing a crime, or the property or things so intended to be used are in the possession of another to whom they have been delivered for the purpose of concealing them or preventing their being discovered.
The property or things above-described constitute evidence which tends to show a crime has been committed or tends to show that a particular person has committed a crime."
Disgusting behavior by local authorities. Grasping for something…anything…to distract from their stupidity for allowing this guy to pin on a badge. It is so obvious that they are trying to do anything that can deflect blame from an incompetent police officer that leaves the city open to a massive lawsuit.
This just keeps getting worse. They should be apologizing instead of trying to blame the victim. They're trying anything except placing the blame where it belongs.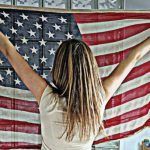 Natalie D. is an American conservative writer! Natalie has described herself as a polemicist who likes to "stir up the pot," and does not "pretend to be impartial or balanced, as broadcasters do," drawing criticism from the left, and sometimes from the right. As a passionate journalist, she works relentlessly to uncover the corruption happening in Washington.She is a "constitutional conservative".