Watch: Seconds Before Massive Public Execution, Quiet Click Blowed 20,000 Feet Above
A video posted on the Internet shows the dramatic moment RAF pilots use a drone-controlled single missile to stop ISIS public execution 2,000 miles away as it's revealed secret strikes in Iraq and Syria have stopped terror attacks on British soil.
As we can see from the video below, the drone is circling above the area where hundreds of civilians were being forced to watch a gruesome execution. But, instead of target the terrorists who were supposed to carry out the execution, the drone targeted a lone sniper who was watching the event and who was supposed to shoot in civilians in case they tried to flee. This way they eliminated the risk of killing dozens of civilians.
With one precision missile, the drone successfully took out the sniper and allowed the crowds, and hopefully, those about to be executed, to escape their terrorist captors.
British Air Commodore Johnny Stringer explained: "The individual who we engaged was a sniper in over-watch to shoot civilians who sought to move away from the execution, let alone to protect the planned execution itself. That particular example for us very much brought it home because civilians had been herded in, forced literally at gunpoint, to go and watch this going on in their hundreds."
Way to go!
The strike killed a single Daesh sniper on the roof of the building, stopped an innocent civilian being executed under bogus crimes. One monster at a time, eventually they will get what they deserve. Job well done RAF!
Rocketman would be wise to follow these events. He'll soon get the message that 'Mess with the West. You mess with the Best!
What do you think about this video? Scroll down to comment below!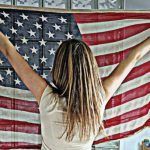 Natalie D. is an American conservative writer! Natalie has described herself as a polemicist who likes to "stir up the pot," and does not "pretend to be impartial or balanced, as broadcasters do," drawing criticism from the left, and sometimes from the right. As a passionate journalist, she works relentlessly to uncover the corruption happening in Washington.She is a "constitutional conservative".