Video That Was Taken Right Before The Hawaii Fires Started Seems To Show What Caused The Wild Fires
It's official: the Hawaii wildfires are the deadliest in American history. At least 92 people died during the disaster, with another 1,000 missing. Entire towns and communities have been wiped out. The cause of the fire is yet to be determined, but the dry, windy conditions due to a hurricane system off the coast, coupled with potential sparks from power lines, might have led to these tragic results. Even more disturbing is that residents of Maui, the location of the fire, said the emergency warning system was never activated
Brush fires were already burning on Maui and the island of Hawaii on Tuesday. Those fires were stoked on Wednesday by a combination of low humidity and strong mountain winds, brought by Hurricane Dora, a Category 4 storm hundreds of miles to the south in the Pacific Ocean.
It was also reported that Hawaiian Electric did not have protocols to cut power lines during dangerous winds (via WaPo):
Four days before fast-moving brush fires engulfed parts of Maui, weather forecasters warned authorities that powerful wind gusts would trigger dangerous fire conditions across much of the island and Hawaii.
The state's electric utility responded with some preemptive steps but did not use what is widely regarded as the most aggressive but effective safety measure: shutting down the power.
Hawaiian Electric, the utility that oversees Maui Electric and provides service to 95 percent of the state's residents, did not deploy what's known as a "public power shutoff plan," which involves intentionally cutting off electricity to areas where big wind events could spark fires. A number of states, including California, have increasingly adopted this safety strategy after what were then the nation's most destructive and deadliest modern fires, in 2017 and 2018.
Hawaiian Electric was aware that a power shut-off was an effective strategy, documents show, but had not adopted it as part of its fire mitigation plans, according to the company and two former power and energy officials interviewed by The Washington Post. Nor, in the face of predicted dangerous winds, did it act on its own, utility officials said, fearing uncertain consequences.
And the video making rounds on social media seems to show how the fires started and again it was a mistake made by the authorities because they didn't shut down the power grid!
Video below:
Maybe we should start making changes in our country before we try to fix the problems of other countries. Our country show signs of weaknesses everywhere and these fires could have been prevented!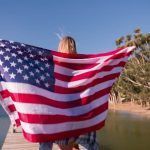 Michelle is American conservative author she is committed to the constitutional principles of individual freedom, economic liberty, limited government, personal responsibility, and traditional values. She is a libertarian and provocateur who believes in freedom and liberty for all Americans. As a passionate journalist, she works relentlessly to uncover the corruption happening in Washington, while exposing politicians and individuals who wish to do us harm.