US Immigration Authorities Arrested 199 Illegal Iraqi Immigrants
Like cancer, Islam will not be put down without a specific consistent action plan. Without such a plan that is aggressive and immediate, this cancer will only get worse until it kills American values and our Constitutional government.
Luckily for us, we elected the right person considering the state of our country after eight years of Obama. Straight up, this man has the intelligence, the desire, and the commitment to maintain our Constitution and our rights in this country.
In a swift and assertive action, that our president took resulted in 199 arrests of illegal Iraqi immigrants.
Via Jerusalem Post: "US immigration authorities have arrested and moved to deport 199 Iraqi immigrants, mostly from the Detroit area, in the last three weeks after Iraq agreed to accept deportees as part of a deal removing it from President Donald Trump's travel ban, officials said on Wednesday."
"In the Detroit area, 114 Iraqi nationals were arrested over the weekend, and 85 throughout the rest of the country over the past several weeks, Gillian Christensen, a US Immigration and Customs Enforcement spokeswoman, said in a statement."
"The actions came as part of the Trump administration's push to increase immigration enforcement and make countries, which have resisted in the past, take back nationals ordered deported from the United States."
This is exactly what has been needed!
Illegally entering the USA is against the law. Period. Sorry, but we can't side when people break the law, no matter where you come from. Illegal is illegal. It's time we start enforcing the laws that have been passed already. If we do there will be little need for new laws.
I admire Trump for his resolve. He is taking a stand. This means the end of the road for the immigrants who walked into the country thanks to Obama's administration. Trump is undoing much of what the former president did to systematically destroy America.
President Trump always do the right thing! This is a sign of a true leader that understands what needs to be done to make America and the world a better place.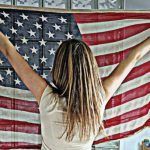 Natalie D. is an American conservative writer! Natalie has described herself as a polemicist who likes to "stir up the pot," and does not "pretend to be impartial or balanced, as broadcasters do," drawing criticism from the left, and sometimes from the right. As a passionate journalist, she works relentlessly to uncover the corruption happening in Washington.She is a "constitutional conservative".