Unreleased Manuscript Revealed Obama Called America A "Racist Society."
Obama was given a truly golden opportunity to bring us all together. Yet, he did nothing but divide and conquer. He set us back more than 50 years. Martin Luther King must be turning over in his grave at what Obama did.
Now Pulitzer Prime winning author David Garrow revealed that there is an unpublished manuscript from Barack Obama which includes a passage that calls America a "racist society."
Via Daily Caller: In an unpublished manuscript, former President Barack Obama and a friend wrote that America is a "racist society" that pushes an ideology that infects the minds of whites and blacks.
Pulitzer Prize-winning author David Garrow is set to reveal information about this unpublished book in his upcoming biography "Rising Star: The Making of Barack Obama."
In an interview on the Jamie Weinstein Show released Wednesday, Garrow opened up about his upcoming book and told Weinstein, "I think that people irrespective of their political views or partisan identification will be astonished. I cannot say that too strongly. Will be profoundly astonished by how much important substance of Barack Obama's life has not previously been known and that's not in a negative context necessarily at all."
We do not need to read this manuscript to know that Obama writes such things. Unfortunately, no one heard about this before he became president.
If we did ANY research 10 years ago we would have KNOWN this. It was written, it was obvious, it was flaunted.
If we knew this before, I am sure America and American people would have had better future! Now, we should let Obama fade away and united with President Trump we must rebuild this great nation so we can once again live in the US in peace and prosperity.
All this time Obama played the race card, Hillary played the woman card… But America played the Trump card!!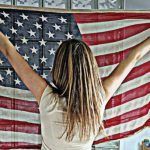 Natalie D. is an American conservative writer! Natalie has described herself as a polemicist who likes to "stir up the pot," and does not "pretend to be impartial or balanced, as broadcasters do," drawing criticism from the left, and sometimes from the right. As a passionate journalist, she works relentlessly to uncover the corruption happening in Washington.She is a "constitutional conservative".