IT'S OVER! Trump Calls Investigation for Clintons, Declares The "Trump Russia Story" A "Hoax"
We are all sick and tired of the lies coming out of the Clinton war machine and the lying liberal left press- all with the express purpose of destroying Donald Trump presidency!
President Trump also had it enough with the lies. That's why in a series of tweets he called out an old foe – the Clintons!
President Donald Trump went on a twitter rant Monday night, blaming the House Intelligence Committee for not investigating his former contender for the presidency Hillary Clinton and her husband.
He was also declaring the "Trump Russia story" a "hoax."
In a series of tweets, Trump questioned the actions of the House Intelligence Committee, asking why it isn't conducting a probe into the former Democratic presidential nominee and her husband, former President Bill Clinton.
He wrote:
"Why isn't the House Intelligence Committee looking into the Bill & Hillary deal that allowed big Uranium to go to Russia, Russian speech…money to Bill, the Hillary Russian 'reset,' praise of Russia by Hillary, or Podesta Russian Company. Trump Russia story is a hoax. #MAGA!"

Love our President, he will forge on in spite of the obstructionist.
Trump speaks the truth! He has never been found to be a liar, unlike the Clinton's.
I just hope we will see some arrests real soon!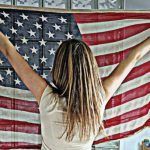 Natalie D. is an American conservative writer! Natalie has described herself as a polemicist who likes to "stir up the pot," and does not "pretend to be impartial or balanced, as broadcasters do," drawing criticism from the left, and sometimes from the right. As a passionate journalist, she works relentlessly to uncover the corruption happening in Washington.She is a "constitutional conservative".