After Trump Administration Pressures Sanctuary Cities, This State Becomes First to Reverse Its Status
When a State or City compiles a law that supersedes the law of the land how is it constitutional? And why shouldn't the offenders be jailed if they change the laws, and oppose federal law? Why should they receive FEDERAL funding for anything? After all, NO cooperation, NO federal funding. Seems reasonable to me.
But, the impact of President Trump's executive order to support immigration enforcement and punish local governments by denying federal funds for hundreds of sanctuary cities recognized under the Obama administration is huge.
Via The Hill: "On Friday, the Department of Justice informed Miami-Dade County Mayor Carlos Gimenez that the city is in full compliance with federal immigration requirements and will receive grants dependent on said compliance.
In a letter to Gimenez, Acting Assistant Attorney General Alan Hanson said the county is eligible for Edward Byrne Memorial Justice Assistance Grant Program (JAG) grants.
In a memo to the Miami Board of County Commissioners, Gimenez said Miami-Dade will receive a $481,347 JAG grant thanks to its compliance with the federal requirement.
In February, Miami-Dade became the first — and so far, only — major city to reverse its sanctuary policies.
Gimenez was sharply criticized by immigration advocates for the move, a reversal of a sanctuary policy in place since 2013."
The founding fathers have to be turning over in their graves. To have to report a city actually agreeing to obey the law is hard to believe. But, it is a good day for Miami. Time to get this under control! The idea of sanctuary cities is ridiculous. A place for criminals, illegals etc to hide in broad daylight and be protected! Outrageous!!!
The fact is, nobody is immune from the Law: certainly no city and its politicians. Not only should monies be removed, but politicians who do not obey laws should as well.
After all, we had to obey Obama's orders. Why can't they obey president Trump 's orders?
We are a nation of laws and thanks to President Trump, our immigration laws are now finally put into enforcement. Tough for the lawless to swallow but I am sure that they will get used to it after a while. Seven and a half more years of this to follow.
What do you think? Scroll down to leave a comment below!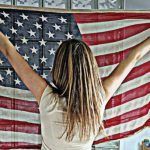 Natalie D. is an American conservative writer! Natalie has described herself as a polemicist who likes to "stir up the pot," and does not "pretend to be impartial or balanced, as broadcasters do," drawing criticism from the left, and sometimes from the right. As a passionate journalist, she works relentlessly to uncover the corruption happening in Washington.She is a "constitutional conservative".