Tim Allen Destroys Liberal Snowflakes On Last Man Standing Before Being Cancelled
I am sure you all have watched one of the best show on TV "Last Man Standing." Sadly after six seasons, ABC Network confirmed that they are canceling Tim Allen-starring sitcom.
Apparently, it is ok for SNL to trash our president week after week, but when Tim Allen expresses his brand of conservatism, his show gets canceled. I guess that is more of that good old fashioned Love Trumping Hate from the Left.
The show was one of the few broadcast network sitcoms to appeal to conservative, blue-collar America, a true oddity since Allen has noted in interviews that the program was written by liberal writers.
However, ABC and production partner 20th Century Fox TV had reportedly usually negotiated over licensing fees for the comedy series before each season, but now, according to reports there was no negotiation about it and the ABC simply pulled the plug on the show.
Petitions and boycotts against ABC are building after the network unexpectedly canceled its hit "Last Man Standing," a move critics believe was prompted by star Tim Allen's outspoken conservative politics and support for President Trump.
But, what makes the show unique and great is that Tim Allen's character is not a whole lot different than a lot of American males. Also, this show is not afraid to call out Hollywood and liberal culture.
In the most recent season of "Last Man Standing," in Episode 9 titled "Precious Snowflake," Tim absolutely smashes the whiny liberal snowflakes and their microaggressions after he is asked for help with a school project from his daughter.
This episode found Baxter blasting politically correct "microaggressions" and drawing up a speech for his daughter's graduation:
He said: "To quote future Nobel Prize winner Lee Greenwood, 'I'm proud to be an American.' Not just because I have the right to speak my mind or carry an awesome gun, but because it's the land of opportunity. Some whiny babies might not think so, but in America, if you work hard, anyone can be successful."
It is too bad ABC canceled this show. It is sad that of all the disgusting things they put on television, they have the nerve to censor Tim Allen and the rest of us because we agree with him.
What a disgrace that this is allowed to go on.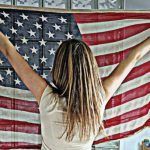 Natalie D. is an American conservative writer! Natalie has described herself as a polemicist who likes to "stir up the pot," and does not "pretend to be impartial or balanced, as broadcasters do," drawing criticism from the left, and sometimes from the right. As a passionate journalist, she works relentlessly to uncover the corruption happening in Washington.She is a "constitutional conservative".