Philadelphia THUG REFUSES TO LISTEN TO COP…Soon Realize He Made A HUGE Mistake
It is real simple…If you don't want trouble, don't make trouble. Want respect, give respect. Do right and mind your business…. use your morals and common sense!
However, black people always talk about someone "disrespecting" them… but everybody know that you have to EARN respect!
It's simple! Do what the officer tells you! These punks nowadays think they don't have to!
The Philadelphia police officer told the man to sit down for a while so they can sort things out, but the man reacted by yelling and refusing. That's why the officer took what it needed to be done in order to make sure the situation is under control.
Watch the video:

How hard is it to simply do as you're told? Apparently, this man thinks there are different rules for him than there are for the rest of us. I guess he is unaware that his master Obama is no longer around to punish cops for doing their jobs!
I guess he is unaware that his master Obama is no longer around to punish cops for doing their jobs!
THE BOTTOM LINE IS: If you don't want to be treated that way then don't put yourself in that situation. If a police officer tells you to sit or shut up just do it. They have a job to do and it has to be a hard one and very unsafe for them, but without them what would this country be like.
That is why everybody needs to obey the officer's orders and all will be peaceful.
This loud mouth thug would not compile with a simple order/request to sit down and was moving his body in an imposing manner towards the officer culminated with his loud verbal refusal to not compile so the officer acted accordingly!!!!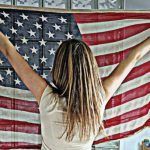 Natalie D. is an American conservative writer! Natalie has described herself as a polemicist who likes to "stir up the pot," and does not "pretend to be impartial or balanced, as broadcasters do," drawing criticism from the left, and sometimes from the right. As a passionate journalist, she works relentlessly to uncover the corruption happening in Washington.She is a "constitutional conservative".