Texas Mayor Says NO to Sharia Law!!! (VIDEO)
Any Muslim that wants sharia law should be deported immediately… these people need to follow the laws of this country or leave … and take your families with you … ban sharia law nationally NOW!!!
In March Irving Mayor Beth Van Duyne came under immediate fire by Muslim groups who have been trying to create the first Muslim Shariah court in this Texas city.
However, they have been denied big time when the city council of Irving, Texans voted to endorse a Texas law that forbids judges from using unconstitutional foreign laws in family court cases.
The move came in response to a local mosque's Muslim mediation panel comprised of arbitrators settling civil disputes using Sharia law.
First of all, there were many things that were wrong with this request. Some of the examples given were unlicensed Sharia lawyers that wanted to practice law in Texas. After all, this is the United States of America and Shariah Law has no place anywhere near here!
Even after receiving numerous death threats and requests from the Muslim group, Mayor Van Duyne refused to back down. She wrote: "Sharia Law Court was NOT approved or enacted by the City of Irving. Our nation cannot be so overly sensitive in defending other cultures that we stop protecting our own. The American Constitution and our guaranteed rights reign supreme in our nation and may that ever be the case."
[youtube https://www.youtube.com/watch?v=Np25eHWYudg]
The mayor is a wise woman. This is America and we don't want any foreign law permitted here. This shouldn't even be a question. If you want sharia law then go back where you came from. In America, we follow the Constitution and laws of United States.
What doesn't Americans understand about Muslims? They want to control the world.
They take over little by little until it's too late. That's why they must be returned in their own countries because they are destroying our country.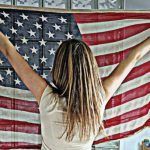 Natalie D. is an American conservative writer! Natalie has described herself as a polemicist who likes to "stir up the pot," and does not "pretend to be impartial or balanced, as broadcasters do," drawing criticism from the left, and sometimes from the right. As a passionate journalist, she works relentlessly to uncover the corruption happening in Washington.She is a "constitutional conservative".