Sweeden Terror Attack! Truck Crashes Into Stockholm Store, Killing At Least Three People
The Left has been accusing those who wish to preserve their nations and cultures with all sorts of personal insults that when something like this happens, unfortunately, it is only natural to say "told you so!"
Trump got blasted relentlessly for saying that Sweden had some issues going on related to terrorism, and now the media, once again, owes him an apology.
On Friday a stolen truck crashed into a department store in Stockholm.
It was reported that at least three people are dead and there are much more injured after what it seems to be a terroristic attack.
Swedish Prime Minister Stefan Lofven said it appeared the crash was "a terror attack" and the country's intelligence service said there was "a large number of injured".
In a Twitter post, Lofven said: "Sweden has been attacked. All indications are that it is an act of terrorism. Be vigilant, and listen to the Police information."
Mr.Lofven said a suspect had been arrested in connection with the attack, which is reported to have involved gunshots, in the Swedish capital on Friday afternoon. However, Swedish police later said no one had been arrested over the attack.
An hour after the attack, police evacuated travelers and others from the central train station near the crash site.
"It's not safe here," police announced, using loudspeakers in the station, according to Ahmed Abd el Latif, a witness.
Unfortunately, Sweden will do nothing but talk only talk shortly about this and then the leaders will say how much they welcome illegal aliens in their country. They are victims of their own insane, liberal, socialist policies.
This will happen again and again as long as the left turns a blind eye to this problem! Open our borders they say, let the refugees in they are harmless they say… But we know better than that!
WE DO NOT WANT THIS IN OUR COUNTRY!!!!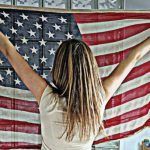 Natalie D. is an American conservative writer! Natalie has described herself as a polemicist who likes to "stir up the pot," and does not "pretend to be impartial or balanced, as broadcasters do," drawing criticism from the left, and sometimes from the right. As a passionate journalist, she works relentlessly to uncover the corruption happening in Washington.She is a "constitutional conservative".