Supreme Court Ruled That Obama Violated The US Constitution
Obama and his cronies think and behave like career criminals. They do their evil things repeatedly because they think they cannot be caught.
The Obama administration has been the most lawless in U.S. history. There are numerous examples of how Obama and his administration violated the constitution during his presidency!
Now, the Supreme Court finally stood up for the Constitution and dropped this bombshell decision against Obama!
Via Western Journalism:
"The Supreme Court ruled Tuesday that President Barack Obama violated the Constitution by maintaining former acting National Labor Relations Board General Counsel Lafe Solomon after the Senate refused to vote on his nomination."
The Supreme Court ruled Solomon's status as both acting and nominated general counsel for the majority of his three-year tenure violated the Federal Vacancies Reformed Act of 1998, which restrains the president's appointment power.
The FVRA prohibits an individual from serving as both the acting officer and permanent nominee of a position which requires Senate confirmation.
Chief Justice John Roberts ruled in the 6-2 decision that the appointment was an "end-run around" the Constitution.
Roberts wrote in the ruling opinion- "We cannot cast aside the separation of powers and the Appointments Clause's important check on executive power for the sake of administrative convenience or efficiency."
"The Judicial Branch must be most vigilant in guarding the separation between the political powers precisely when those powers collude to avoid the structural constraints of our Constitution," the ruling continues."
Obama is what he is! He does whatever he wants above and beyond the constitution! He seems to think he knows the constitutional law better than anyone else! I don't think so!
On the bright side, at least one of Barack's crimes against the nation has been proven and documented. He broke the Rule of Law and should be held accountable just like you and I. He should be tried just like any other citizen. The vote was 6 to 2 by the Supreme Court.
After all, we can not ignore the Court that it suppose to be the law of the land!!!
Scroll down to leave a comment below!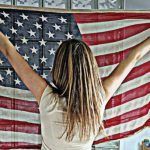 Natalie D. is an American conservative writer! Natalie has described herself as a polemicist who likes to "stir up the pot," and does not "pretend to be impartial or balanced, as broadcasters do," drawing criticism from the left, and sometimes from the right. As a passionate journalist, she works relentlessly to uncover the corruption happening in Washington.She is a "constitutional conservative".