Stop What You Are Doing And Watch What Delusional Pelosi Is Saying About Illegal Immigrants
If you were born in the USA your supposed to pay for the illegals while you live paycheck to paycheck to make ends meet. This is Nancy and the Democratic's Way of thinking.
On Wednesday House Minority Leader Nancy Pelosi thanked parents of illegal immigrants who brought their children into the country and said that Americans "owe a debt" to them for doing so.
Pelosi said: "Our Dreamers, they make America dream again. They're so lovely and we, frankly, owe a debt to your parents for bringing you here to be such a brilliant part of our future."
Here's an Idea Pelosi… I will come and break into your garage and live there for about a week, then you can give me a million dollars because "you owe a debt" to me. Does that sound insane? Well so do you.
Pelosi's comments were in response to a question from a "Dreamer," who said he was terrified about his status after President Trump announced he will end DACA.
When a politician makes so many illogical statements, there should be a rule that they should have to have a psychological evaluation done to see if dementia is present.
Just now I'm looking at my wall and thinking "how could this woman be in a position of so much power…how? No, we do not owe them. We owe first responders for risking their lives every day but the democrats demonize them. What about the millions of homeless she never mentions them, and most of all we owe our men and women that are serving and have served our country which the Democrats also only use as a political tool. The Democrats cannot even show respect or compassion for any of these groups but dare to say we owe people who came here illegally?
What do you think? Scroll down to leave a comment below!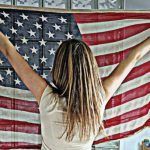 Natalie D. is an American conservative writer! Natalie has described herself as a polemicist who likes to "stir up the pot," and does not "pretend to be impartial or balanced, as broadcasters do," drawing criticism from the left, and sometimes from the right. As a passionate journalist, she works relentlessly to uncover the corruption happening in Washington.She is a "constitutional conservative".