Shocking Video Shows Violent Student Brutally Beating Teacher In Classroom
An education is the most important thing you can get to improve your life and provide for yourself and your family but this idiot has decided that throwing the rest of his life away just to show his cronies he is powerful.
Well, guess what…He is not!!
A cell video records were posted on the Internet shows 16-year-old student repeatedly punching his teacher in the head while they are in the classroom. Eventually, the teacher falls to the ground, but this does not stop the student from hitting him. The student — and the people who filmed it thought they were so cool and that they were immune from punishment, but hey thought wrong.
The student was arrested at the school and faces possible charges of battery.
Via FOX6: "A school that's known as the fighting cardinals–now dealing with a fight of a different kind. Police tell FOX6 the teacher's injuries were not life threatening. Charges will be presented to the District Attorney's Office in the coming days. Officials say the case will be presented to the Milwaukee County District Office in the coming days for possible charges of Battery to a School District Official. Milwaukee Alderman Bob Donovan issued the following statement on this incident: "Violence at MPS is a great concern to the community. Actions like this need criminal charges to send a message, and hold the student responsible for their reckless and dangerous behavior."
This kind of violence is unacceptable. Sadly, this is what happens when there are no consequences enforced on punk kids. They act like this thug and deserve an a** whooping. Every single punk in that video laughing deserves an a** whooping too.
This is unacceptable to me!!! The teacher helps out the kids all the time, but the kids just laughed and didn't help him? A sad reflection of our society.
Students, white, black, purple, green! Don't care what color they are! They need to respect their elders! This is not a race thing, but a culture thing. If you respect don't education, hard work, self-reliance, authority figures or even yourself this is exactly what you get. It starts at HOME!!!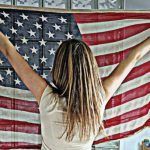 Natalie D. is an American conservative writer! Natalie has described herself as a polemicist who likes to "stir up the pot," and does not "pretend to be impartial or balanced, as broadcasters do," drawing criticism from the left, and sometimes from the right. As a passionate journalist, she works relentlessly to uncover the corruption happening in Washington.She is a "constitutional conservative".